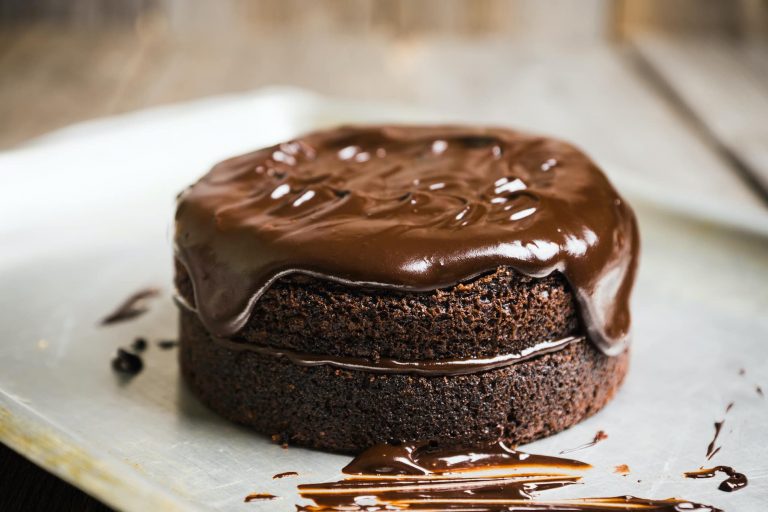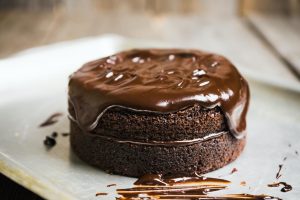 Nothing says Valentine's more than a rich chocolate cake. We like to fill the cake with raspberry jam and cover the top with a velvety chocolate ganache. Easy to make, this will be an amazing finish to your romantic Valentine's Day dinner.
Chocolate Cake –
9 oz flour, half all-purpose flour, and half cake flour
14.5 oz granulated sugar
2.25 oz unsweetened cocoa powder
2 tsp baking powder
1 tsp salt
8 oz room temperature milk
4 oz canola oil
2 room temperature large eggs
2 tsp vanilla extra
8 oz hot water
Preheat oven to 335 F. Sift together flour, sugar, cocoa, baking powder, baking soda, and salt. Whisk the mixture well to combine. Add milk, oil, eggs, and vanilla to the flour mixture, and beat with a hand mixer on medium for about 2 minutes until well combined. Slowly mix in the hot water – the batter will be very thin. Pour into two greased and floured 8-inch cake pans (round or heart-shaped). Bake until a toothpick inserted comes out clean, about 20 minutes.
While the cake is cooling, make up your chocolate ganache. Take 1 cup of heavy cream heat until steaming. Pour over 10 oz chopped or chocolate chips. Let sit for a minute or two, and then stir until combined.
Once the cakes are cool, take them out of pans and put them on your cake stand. Spread a layer of raspberry jam on the bottom layer and some of the ganache, and top with the second layer. Pour ganache over the top of the cake, letting it drip down the sides. Let the ganache sit until firm and decorate with fresh fruit, chocolate-covered strawberries pieces of chocolate, sprinkles, or sugar hearts! You can also make cupcakes with this recipe and decorate them with our signature chocolate frosting! For this and many more recipes from The Old Harbor Inn kitchen follow us on Facebook and you can also purchase our cookbook here.