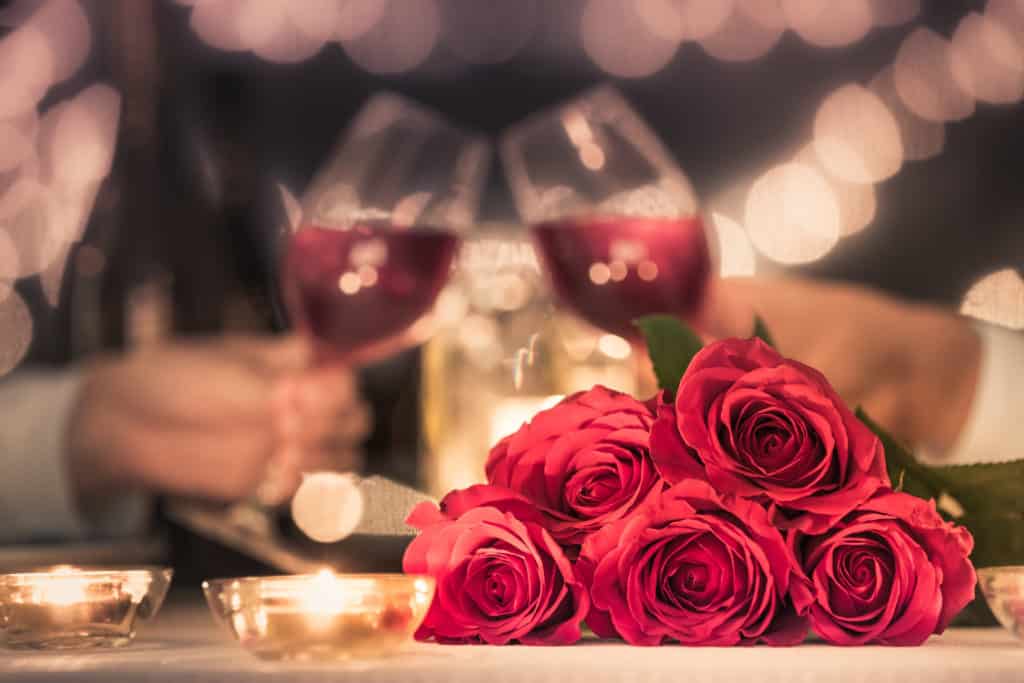 Valentine's Day is just around the corner and with the many restaurant choices and offerings, it can be overwhelming to choose the best one. Sometimes we all need a little help when it comes time to find that special romantic restaurant. With its stunning beaches and quaint little towns, Cape Cod is undoubtedly one of the East Coast's top romantic destinations. The Cape's year-round dining scene offers something for everyone from oceanfront fine cuisine to intimate French bistros. Here are our three best, most romantic restaurants on Cape Cod.
Nothing says Cape Cod more than the sweeping views of the Atlantic Ocean, stunning sunsets, and amazing seafood. If you are looking for that romantic feel it's a must to dine in one of the Cape's many oceanfront restaurants. Our favorite is Ocean House in Dennisport, located directly on the beach with huge wall-to-wall windows, this upscale restaurant serves New England fare with an Asian twist. A romantic table by the window, candlelit ambiance, and the sound of live music will set the mood for a romantic evening before the first course arrives. Seafood is a staple here, all local, fresh, and cooked to perfection. Cape Cod Potato Chips Crusted Cod, New England Lobster Ravioli and Yellow Fin Tuna Tartar "Ice cream cones" are among our favorites. In the off-season take advantage of their excellent prix-fixe menu, three for $35. And to top it all of order the famous Chocolate Bag Sundae for Two – vanilla gelato, chocolate and caramel sauce, brownies, bananas, whipped cream in a handmade chocolate purse. After dinner grab a drink at the outdoor bar where you can find creative cocktails and perhaps get a glimpse of the Cape's famous sunsets. Get lost in the view and each other at this top romantic restaurant on Cape Cod.
When thinking about romantic dinner we can all agree that the French do it best! Caviar, oysters, Champaign, desserts, chansons do we need to say more! We have the perfect French spot for you, right here on Cape Cod. No need to take your sweetheart to France to experience first-class French cuisine. Chef Philippe Rispoli owner of the PB Boulangerie Bistro in Wellfleet is a native of France and a highly respected chef in France and the US. Before opening this local gem Chef Philippe worked at several Michelin-star restaurants in NYC and Las Vegas. PB offers a romantic ambiance with candlelight, European decor, and irresistible aroma of freshly baked pastries. You will feel like you've been teleported to a bistro in France. The open kitchen concept allows you to see the chefs at work and enjoy the art of cooking. This classic French cuisine consists of many locally inspired dishes such as Wellfleet curry clams, Slow Poached Cod Fish and Wasabi Pea Encrusted Yellowfin Tuna. Foodies do not miss the opportunity to try chef Philippe's pate, foie gras, and escargot. PB is an experience unlike anything else on Cape Cod from the adorable adjoining bakery offering buttery croissants and fresh bread to the extensive list of high-end French wines and the sinful desserts.
Located near one of the most beautiful Cape Cod beaches, Skaket Beach in Orleans lies a historic mid-19th century home. It was the family home of a local Sea Captain, Capt. Linnell before beginning its next chapter as one of the most romantic restaurants on Cape Cod, the Captain Linnell House. Owned by power couple Chef Bill and Shelly Conway for over 30 years, this local landmark is sure to impress your date. A piece of living Cape Cod history this elegant dining has it all! The Cape Cod fairytale feel can be found thought the property. Pick an intimate table by the window overlooking meticulously maintained gardens filled with wisteria and lavender. Begin with one of their signature cocktails while enjoying the crackling of a nearby fireplace. Follow with one of the locals' favorite entrees Bouillabaisse, Farfalle, and Scrod in parchment. End the romantic evening with their famous Skaket Beach Mess!
Cape Cod's top romantic restaurants highlight the region's native fish and seafood in elevated New American and European fare. Foodies will find plenty to love as the Cape's dining scene has something for everyone. The three best romantic restaurants we've chosen have that special something that can make your dining experience one you will remember.