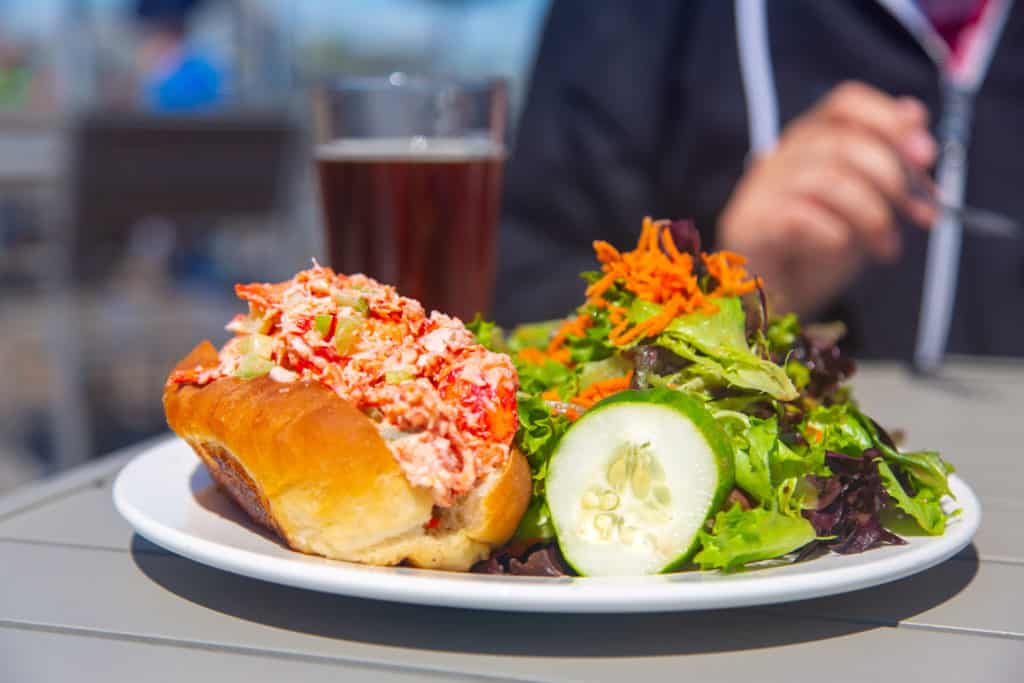 Looking to indulge in some amazing seafood, but not interested in getting dressed up for dinner? Have no fear, Cape Cod has you covered. There are plenty of amazing seafood shacks all over the Cape where you can grab some tasty food and have a casual lunch or dinner by the seaside.
One of the biggest names in seafood shacks on the Cape is Arnold's Lobster and Clam Bar located in Eastham. This great restaurant is always busy, which is a very good sign when looking for delicious food. They have a great selection of items on their menu, ranging from a classic lobster roll to delicious fried clams and they even have a raw bar if you feel like slurping on some oysters. They also serve delicious milkshakes that you can sip on while you play a round of mini-golf on their 18-hole course.
If you are up in Dennis, the Sesuit Harbor Café is an excellent place to visit. The dining room is all outside and right next to the water, so it has a great beachy vibe. You can get some excellent fried scallops here, or classic boiled lobster with corn and potato salad. Another option if you are on the 6A highway is Cobie's Clam Shack in Brewster. They have a huge menu that ranges from a simple burger to lobster rolls and fried seafood platters. They also have a vast selection of specialty ice cream, so be sure to save room for a big scoop or two!
While you are hanging out in Chatham, we always recommend a stop at the Chatham Fish Pier. While you are there to watch the seals and the fishermen working away in their boats, you can grab some of the freshest seafood around in the market. They have great clam chowder here, as well as several different seafood rolls to choose from. You can also get fresh haddock fish and chips, which is always a crowd favorite. You can also stop in at the Kreme N Kone and get one of their massive Fisherman's Platters to share. They have seating inside and out, but you could also take it the short drive to Harding's Beach and have a great picnic. Chatham Fish and Lobster it's the locals' favorite spot. The red picnic tables outside are so inviting, sit outside, relax, and enjoy a perfect Cape Cod dining. They offer market-fresh fish, Chatham oysters at the raw bar, and a classic yet creative menu. Try their whole belly fried clams and the lobster dinner!
A very popular seafood dish to try while you are on Cape Cod is Wellfleet Oysters, and there is no better place to try them than at Mac's Shack in Wellfleet itself. Grab a seat at one of the shaded tables and order a dozen of these famous oysters, or try one of the many other delicious seafood treats on their menu. Order one of their delicious cocktails as well if you are here for dinner, and stick around to watch a spectacular sunset over the water.
If you decided to visit the John F. Kennedy Museum in Hyannis, then be sure to take your lunch break at Spanky's Clam Shack. This award-winning shack is located right on the water of Hyannis Harbor and is close to many of the shops and galleries on Main Street. Be sure to try some of their clam chowder! They also have many non-fried options as well as the classic dishes, so there is sure to be something for everyone here.
Delicious seafood is a tradition on Cape Cod, where fishermen are still a very active part of the community. Whether you prefer your lunch raw or fried, you will find that you won't run out of options anytime soon. Make a stop at one of these delicious restaurants a must for your visit with us this summer! Make sure you visit our Promotions page for last-minute deals, packages, and specials.