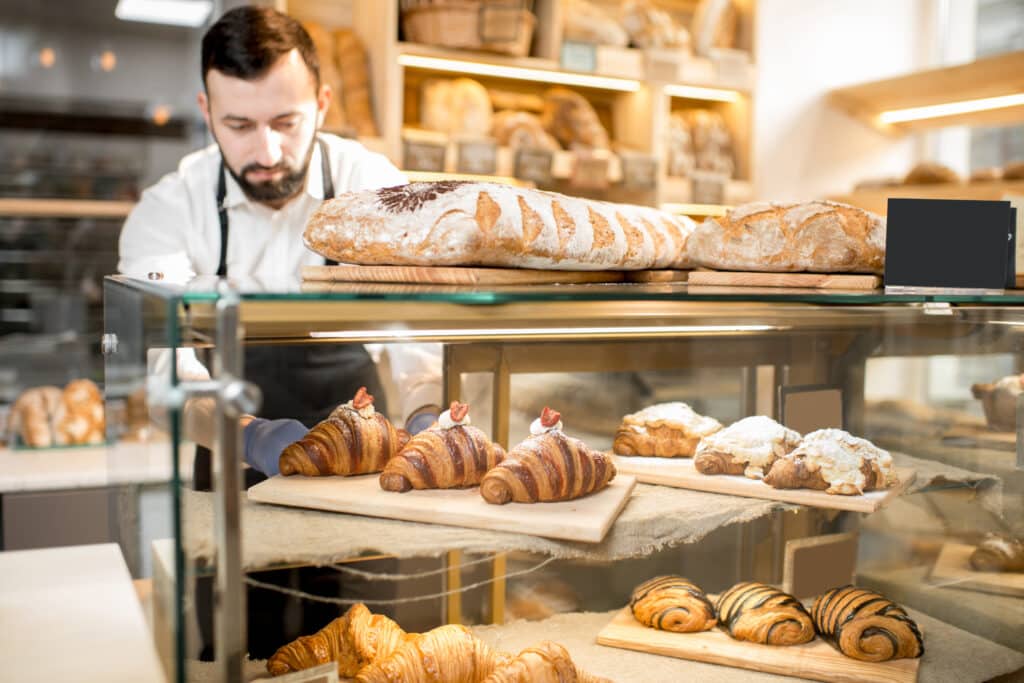 With cooler weather and many yummy fall fruits and vegetables available at farmers' markets, we all can agree baking is a favorite fall activity. Apple coffee cakes, pumpkin bread, and cranberry orange muffins are some of our guests' favorite treats to try at the Inn during the fall months. Lots of our guests ask us for places where they can warm up with a cup of good coffee and a sweet treat after exploring the beautiful outdoors of Cape Cod. Even though we always have goodies for you at the Inn, we highly recommend trying some of the local bakeries. There's no shortage of bakeries and coffee shops on Cape Cod, where you can grab a quick bite. Enjoy flaky croissants and delectable pastries that rival those in Paris, pick up fresh Portuguese fried dough or grab a homemade apple pie.
Do you what to know where to find the best pastries, bread, pies, and gourmet desserts to satisfy your sweet tooth? The Cape has a number of bakeries to choose from, but we have our favorites. Here is our list of the 5 Best Cape Cod bakeries to try this fall!
P.B. Boulangerie Bistro, Wellfleet
In the spring of 2010, chef Philippe opened PB Boulangerie Bistro, and it became an instant hit! Before coming to the U.S., chef Philippe worked at several Michelin-star restaurants in France. PB has a French neighborhood feel, inviting guests in with the aromas of freshly baked bread and croissants. Mornings here are very busy, and there are often lines out the door. If you enjoy biking, we highly recommend hopping on the Cape Cod Rail Trail and reaching this famous destination via the bike trail. The bistro is located at the end of the bike trail. There is nothing better than arriving at this amazing bakery after a long bike ride. The bakery menu features French classics such as croissants, macaroons, eclairs, madeleines, and French baguettes. You must try the Cranberry Pecan Bread, White Chocolate Bread, and the gorgeous pastries that look and taste like the work of art that they are. Our favorite to try is the lunch special where you get a sandwich, soup or salad, choice of dessert, and a hot beverage!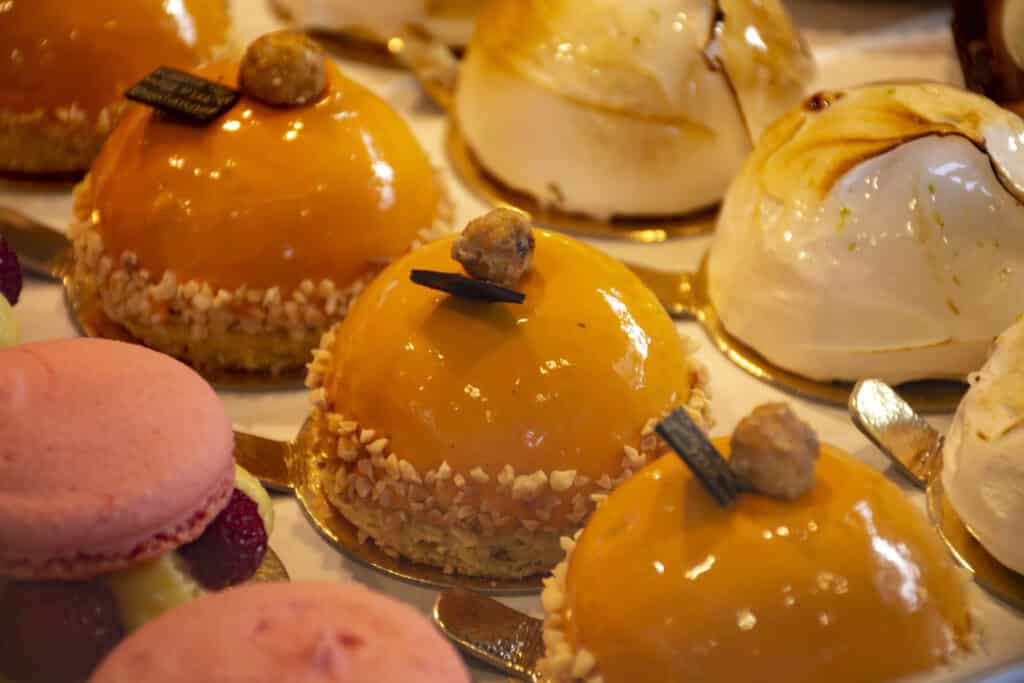 Eat Cake 4 Breakfast, Brewster
Establish in 2015, Eat Cake 4 Breakfast has become an iconic part of the Cape. The owner, Danielle is so passionate about baking. She trained in Paris, France at Le Cordon Bleu. While there, she worked alongside some of the best talent in the world. While being trained in classic French Pastry, she believes in staying true to her American roots and creating pastries every foodie can enjoy. You must try the New Yorker (an everything croissant with cream cheese filling), the Brewster Bun (muffin made out of croissant dough brushed with melted butter and rolled in cinnamon sugar), and Pistachio Chocolate Croissants.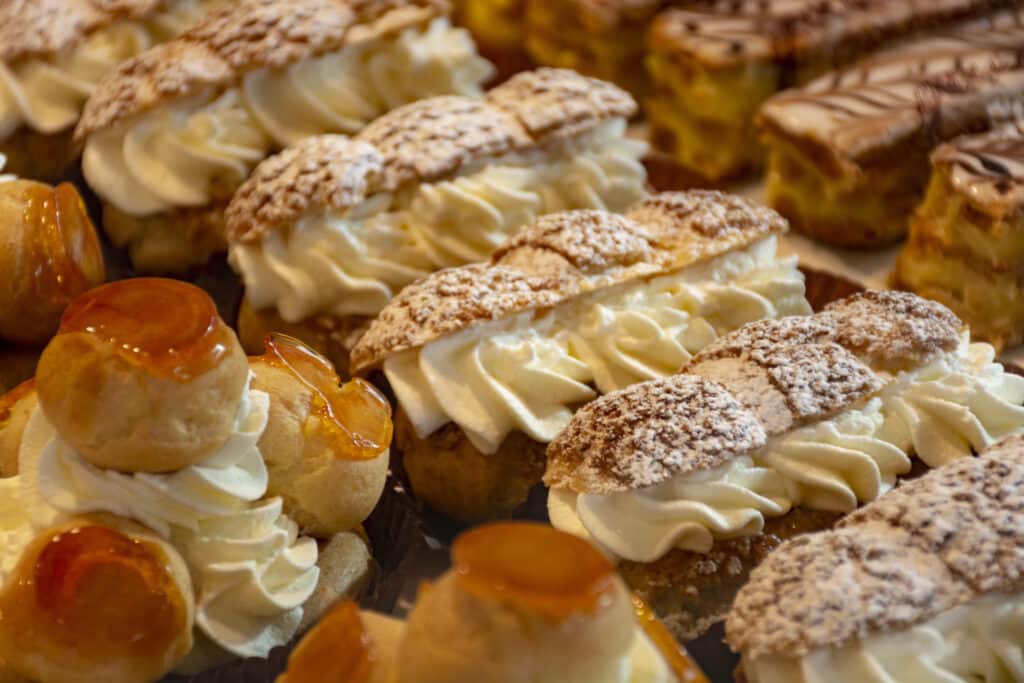 Established in 1947, this is the pie capital of Cape Cod, with an amazing variety of fruit and meat pies, plus other amazing treats. When it first opened, Marion would sell homemade chicken pot pies right from her own kitchen in Chatham. It was several years later that the bakery was built right next door to her home. Over the years a large array of fresh fruit pies, treats, and prepared entrees were added. Some of their signature pies include their now-famous Apple Pie, Bumbleberry Pie, and Lemon Meringue Pie. The shop is located on Route 28 in Chatham, just a short five-minute drive from the Inn.
Located on Hinckley Road in Hyannis, a few blocks from Cape Cod Mall and the Hyannis Airport, you will find tucked away Cape's most sought-after baked goods. The bakery became famous for the best bread on Cape Cod. The bakery has a philosophy where it focuses on using traditional breadmaking methods without the use of preservatives or artificial ingredients. The result is that every loaf has a distinctly European flavor. We love all the bread they make as well as their pasties. You must try the Raspberry Pull-Apart, Apple Turnover, and Almond Croissant. This bakery is the perfect place to stop after strolling around Hyannis. They also have outdoor seating and serve an amazing lunch!
Portuguese Bakery, Provincetown
Located in the heart of downtown Provincetown, this bakery has been here since around the 1900's baking up a taste of Portugal. From the classic Portuguese sweet bread and Vienna bread to the more popular treats like Pasteis de Nata (custard cups), Patinhas deVeado (sponge cake, rum-flavored, with Bavarian cream, cinnamon, and coconut), and the line forming Malassadas (sweet pastry dough deep-fried in cinnamon and sugar) there is something for every taste. Most of the recipes are handed down from generation to generation. The owner Ofelia has an extensive pastry background including time at the Culinary Institute of America and five-star resorts. It's a must-try while visiting P-town.
There are so many fantastic Cape Cod bakeries to choose from while exploring the area. Our Inn is ideally located in the middle of the Cape which makes it perfect to reach all of the top bakeries in a short car ride. We love baking at the Inn as well and cannot wait to serve you our fall-inspired breakfast menu. Our homemade breakfast is always included with your stay, free of charge. Baked goods are available both in the morning and afternoon. If you would like to try making them at home, our cookbook is available for purchase on our Facebook page. Check out our amazing fall specials and packages and book your fall getaway to Chatham today!