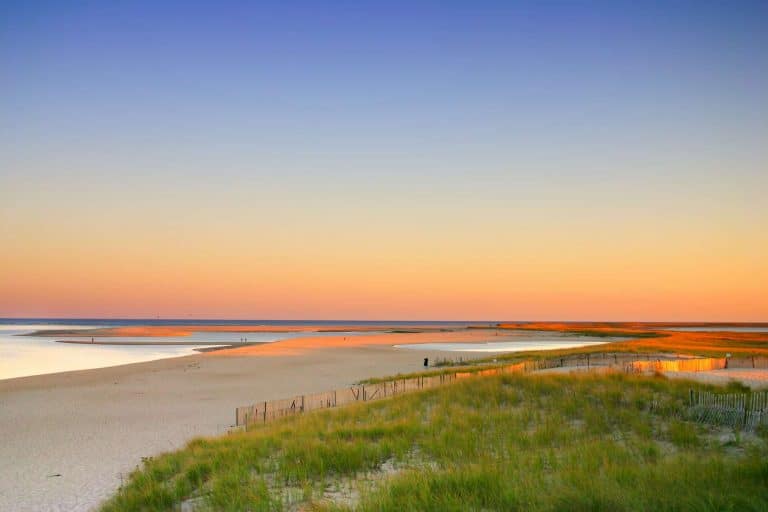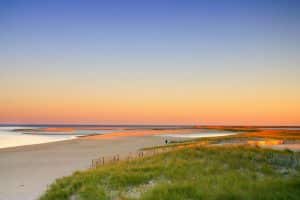 Cape Cod, with its pristine beaches, charming villages, and legendary seafood is one of the most desirable and popular travel destinations in the United States. Occupying nearly 600 miles of coastline, the Cape is a summer haven for eager travelers wanting to soak up some sun and enjoy some of the best beaches in the country. The Cape Cod National Seashore stretches for over 40 miles of preserved beach areas, from Chatham to Provincetown. Here are our picks for the top 10 best beaches on Cape Cod:
Chatham Lighthouse Beach
Located just a mile away from the Inn this beach offers the most stunning views of the Atlantic Ocean. Chatham Lighthouse Beach, also called South Beach, is set below the guiding light of the Chatham Lighthouse and the Coast Guard station. The overlook offers views of the Chatham Break, beautiful sand bars, occasional seals, and passing fishing boats. This is a great beach to go to for a nice long walk, take a yoga class, or capture a sunrise. The parking lot only offers 30-minute parking from 9 a.m. until 5 p.m. so plan ahead by either walking or leaving the car on Main Street and hop on a shuttle for a small fee. Swimming is not recommended because there are strong currents and no lifeguard.
Harding's Beach in Chatham
Harding's Beach is a warm and calm beach of Nantucket Sound. The beach is a short 5-minute drive from the Inn and it's a great place to spend the day sunbathing. Its calm and warm waters make it ideal for swimming and kayaking. If you want to get your steps in, explore the wonderful walking trail running parallel to the beach. The trail will take you to a beautiful lighthouse, the Stage Harbor Light, and you can enjoy some spectacular views along the way. Beach passes are $20/per day and $75 for the week. This beach has plenty of parking, a bathhouse with showers, and food service trucks offering everything from ice cream, hot dogs & burgers to amazing tacos. It's a great beach if you are looking for peace and quiet with lots of room for everyone.
Nauset Beach in Orleans
Nauset Beach is one of the most dramatic Cape Cod beaches with over 10 miles of shoreline. In addition to featuring protected areas for swimming, this Orleans beach offers off-road trails and designated areas for surfing. The waves are top-notch, and there are often seal sightings as well as occasional shark sightings so be aware of if you are planning to go in the water. Nauset also has a gazebo that hosts free outdoor concerts every Monday night from 6:30-8:30 p.m. during the summer months. There's plenty of beach parking, the daily pass is $20 and free after 4:30 p.m. If you are looking to grab lunch, Nauset Farms is located on the street leading to the beach and offers fresh salads, sandwiches, cold drinks, fresh produce, and much more.
Skaket Beach in Orleans
Tucked away on the bayside, this is the best beach to capture one of the Cape's famous sunsets. The bay waters are much warmer than the open ocean and are ideal for a nice summer swim. During low tide, you can enjoy a long beach walk and experience the amazing soft sand this beach is known for. A concession stand serves easy beach fare, and lifeguards are on duty during the summer season. There are also showers, restrooms, and a boardwalk on site. Parking can fill up quickly on warm sunny days, so arrive early to ensure you find a spot.
Mayflower Beach in Dennis
This Mid-Cape beach is located on the bayside offers calm warm water ideal for swimming. A stunning boardwalk leads to the specious beach, especially during low tide. This beach is perfect for families; there are lifeguards on duty, as well as a picnic area, plenty of room for beach games, restrooms, showers, and changing rooms. This is also a perfect beach to see a sunset, take photos, and enjoy a nice long walk. Plenty of parking is available for a fee.
Corporation Beach
The scent of the rugged rosa rugosa fills the air when in bloom at this crescent-shaped beach. When the low tide goes out, the flats provide even more space for long summer walks in the sand. Enjoy boats going to and from the nearby Sesuit Harbor, as well as sailboats, crossing the horizon. For an amazing lunch stop by Sesuit Harbor Café and try some of the best seafood around. This restaurant is cash only! Arrive early to find parking.
Nauset Light Beach in Eastham
Located by the iconic Nauset Light this beach offers sweeping views of the Atlantic, soft sand, and plenty of room for everyone to enjoy. Wooden stairs will take you down to this beautiful beach. Large waves attract surfers to this mile-long beach while other water lovers can enjoy swimming and bodyboarding. This beach is part of the National Seashore and it's fully equipped with restrooms, showers, and lifeguards. The water here is always on the cool side. You may spot seals' heads as well but be aware that where there are seals there might be sharks. If you are looking for a fun thing to do, make sure you visit the lighthouse for a tour and get a chance to admire the spectacular ocean views from a higher point. There are no concessions on-site, so bring a picnic and plenty of water. Parking is $20 for a day pass.
Coast Guard Beach in Eastham
Located in the heart of the Cape Cod National Seashore and often recognized as one of the top 10 best beaches in the U.S. Coast Guard Beach will simply take your breath away. This is a very popular beach on the Cape, with its expansive sand dunes, adjacent marshlands, and stunning sea views. The beach's namesake, a former coast guard station also sits on the shore, and visitors can explore the grounds of the historical building. There is limited parking for residents only, however, visitors can park at the Little Creek parking lot near Salt Pond Visitor Center and take the free shuttle to the beach. Facilities include restrooms, showers, changing rooms, and lifeguards.
Marconi Beach in Wellfleet
This beach is best known as the site of the first transmitted telegraph to Europe. It's named after the famous Italian inventor Guglielmo Marconi, who sent the first transatlantic wireless message from a station nearby in 1903. It's one of the Cape's most well-known beaches famous for its stunning cliff framing a backdrop to a beach that sparkles in the sunlight. The sand often changes colors along the cliffs resulting in an ombre of hues. The beach is wide and backed by large dunes. The views from atop are spectacular to see. Steep wooden stairs lead to a wide beach with enough space for everyone and it's perfect for having seclusion from other people. The Atlantic White Cedar Swamp Trail is located nearby and worth exploring. There is large paid parking with plenty of room and the beach is full equipped with restrooms, showers, changing rooms, and lifeguards. Grab lunch at the PB Boulangerie Bistro located nearby to bring to the beach since there are no places to purchase food at the beach.
Race Point Beach in Provincetown
Located at the very tip of the Cape, this breathtaking stretch of sand offers crashing surf, and sand dunes as far as the eye can see. This is a beach where you can walk for miles, go surfing, swimming, and sunbathing and see no one else around. This beach also belongs to the Cape Cod National Seashore and sits at the confluence of Cape Cod Bay and the Atlantic Ocean. Also, you can find extensive cycling and hiking paths behind the rolling dunes. Check out the Province Lands Bike Trail which leads to another beach, Herring Cove and you can even reach Race Point Lighthouse.
Cape Cod's many white-sand beaches offer a diversity of choices, including salt water and fresh water, calm water and big waves, and a range of sizes from small, secluded beaches to huge beaches with plenty of room for walking and sunbathing. Cape Cod beaches are among the fines in the U.S., so book your stay at The Old Harbor Inn today and start dreaming about relaxing summer days!