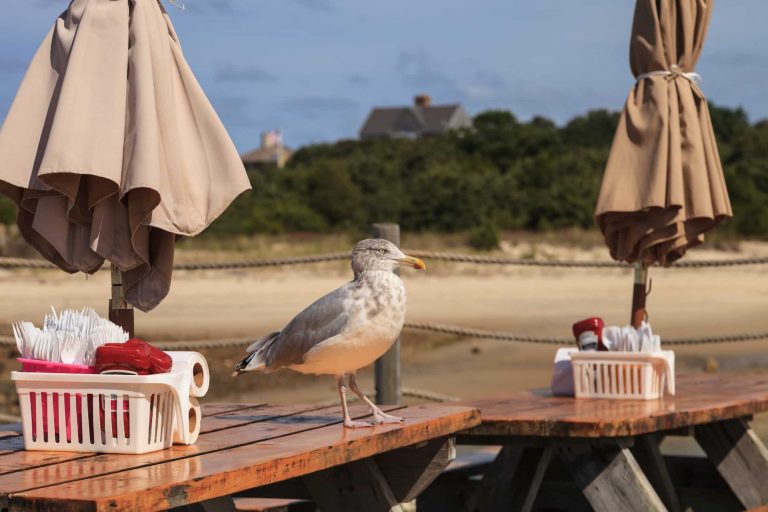 The atmosphere can add another level to any meal, and few things on Cape Cod can beat a water view in the summer. There are some great waterfront options in every town on Cape Cod that offer the chance to dine while admiring the ocean. Here is a list of our favorite go-to places with sweeping ocean views that offer amazing seafood cuisine, service, and atmosphere.
The elegant casual dining room and expansive ocean views are always so inviting. The Ocean House offers inside and outside dining with stunning views of Nantucket Sound and a wide selection of fresh seafood dishes that go great with one of their amazing summer cocktails. If you are planning dinner, this restaurant books months in advance so it's a good idea to make a reservation ahead of time. If you just want to grab a drink and listen to some live music, the Ocean House has several spots where they serve drinks.
In its 22nd season, this family-owned, and operated restaurant is a classic Cape Cod clam shack overlooking Northside Marina and Cape Cod Bay. One of the best places on Cape Cod to get a lobster roll and catch a stunning sunset!
Over 40-years-old, this seasonal restaurant and club sit atop the Cahoon Hollow Beach dunes. This is the only operating restaurant at a National Seashore beach. With an outdoor bar overlooking the Atlantic and an indoor bar in the heart of a former U.S. Lifesaving Station, it does not get any more authentic than the Wellfleet Beachcomber.
This is your authentic Cape Cod clam shack right on Wellfleet Harbor. Locals and visitors alike come here for the casual vibe. Picnic tables, toes in the sand, sunset on the beach, fresh fried seafood, and the best oysters, this is what Cape Cod is all about.
This decades-long staple overlooks Saquatucket Harbor and locals and visitors enjoy the beautiful outdoor sitting area as well as the bustling indoor bar.
The two brothers that are owners of this restaurant are local fishermen who opened Fishermen's View in 2016. With a focus on fresh, locally sourced seafood coupled with stunning views of the canal and marina they are hoping to give guests a truly unique dining experience. Take in the 270 degrees of uninterrupted waterfront views while dining on locally caught seafood. With over 30,000 vessels passing by the restaurant every year, experience the bustle and wonder of the Cape Cod Canal!
One of the oldest restaurants in P-town and a local's staple, the Lobster Pot offers a menu that is a mix of seafood, Portuguese specialties, steaks, poultry, vegetarian, and light fare. The two water view dining rooms overlooking Provincetown Harbor are cozy, casual, and always bustling. We love their clam bake dish and of course the tasty breadbasket with their signature pumpkin bread.
This unique waterfront dining is celebrating 76 years in business serving fresh local cuisine from seasonal fish to specialty local dishes. This is a must-try on your way back from a day trip to Martha's Vineyard! Ideally located at the pier you can just walk over from the ferry. Besides its water view outside, the restaurant's inside is also interesting. Landfall was constructed from boards from shipwrecks and old buildings. The dining room is very charming authentic Cape Cod style with buoy hanging from the rafters.
This popular, family-owned restaurant that's overlooked Hyannis Harbor for almost 65 years has three outdoor eating areas. Watch the activity of the busy harbor from this unique waterfront setting while enjoying lunch, dinner, or drinks. Ideally located just steps away from the ferry terminal to Martha's Vineyard and Nantucket this could be a great option to get a bite to eat on your way back from a day trip to the islands.
We saved the best for last! If you are looking for a formal waterfront dining experience to celebrate a special occasion, 28 Atlantic is the perfect place. It's the only Forbes 5-star restaurant in the region. Housed in an 18th-century sea captain's home, overlooking Pleasant Bay and the Atlantic beyond, this is one of the most stunning settings on Cape Cod. A coastal menu experience with gourmet offerings and award-winning wine set the tone for the perfect romantic dinner.
Consider a stay at The Old Harbor Inn and get a chance to dine in one of these stunning waterfront restaurants. The Inn is located in downtown Chatham right in the middle of Cape Cod. All of the above restaurants are within a short drive from the Inn and range from casual to formal. Most of them do take reservations and we highly recommend them in season. Call us today at 508-945-4434 and book your Cape Cod vacation