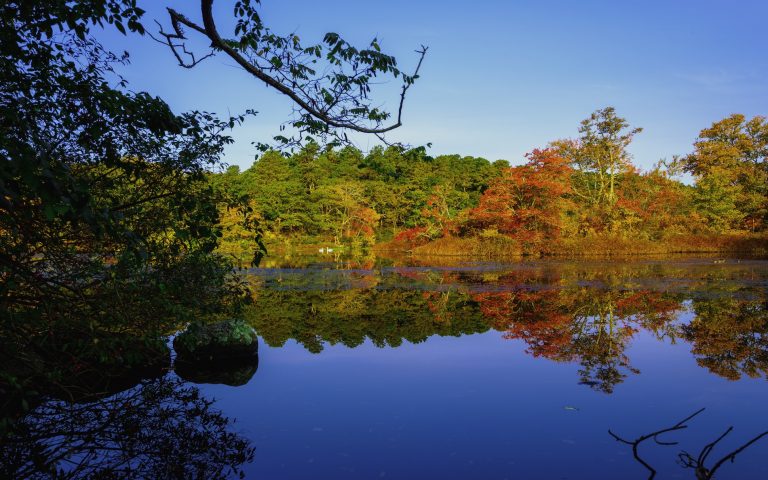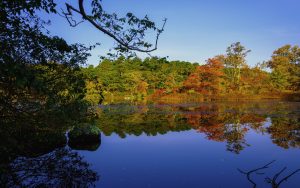 Are you planning a New England Fall Foliage getaway? Then make sure you include Cape Cod in your travel plans! Many of our guests ask us where to start their trip when visiting New England. You should always start from the North and make your way South in order to see most of the changing colors. As one of the warmest places in New England, Cape Cod's peak leaf season arrives later in the season mid to late October. The good news is that we hold our leaves longer than in other areas. So when the show is over in New Hampshire and Vermont, we still have a few weeks of foliage left. There is plenty to see either by walking, biking, or driving. Chatham is located right at the elbow of the Cape and makes for a great hub to explore eye-popping color from Bourne to Provincetown!
Drive along Route 6A from Brewster to Sandwich, taking detours on the older roads that run off of 6A. Start with the beautiful museum of Natural History Museum in Brewster. The museum gives you a very special opportunity to explore beautiful fall colors through the environment of marsh, creek, forest, dunes, and beach habitats. While driving on route 6A keep an eye out for cranberry bogs. They are stunning to see at this time of the year. The next stop is the Heritage Museum and Gardens. During the months of September and October, the leaves begin to turn vivid colors and stay beautiful until November. The gardens become like living sunset, shining with golds and reds. It's a must-see. The walking trails at Scorton Creek off 6A in Sandwich would be a good spot to stretch your legs and see some color along the marsh. Also, Murkwood Conservation Area and Lowell Holly Reservation on the Sandwich/Mashpee town line. Other places to check out near the Inn are the Bell's Neck Conservation Lands in Harwich, the old-timey Quivet Neck neighborhood in Dennis off Route 6A, and Nickerson State Park. Further up Old County Road between Wellfleet and Truro, the Atlantic White Cedar Swamp Trail in Wellfleet, and along the Beech Forest Trail in Provincetown.
The fall foliage is more abundant on the Mid and Upper as there are more non deciduous trees on the Lower and Outer Cape. The Cape doesn't have as many sugar maples or red maples as other parts of New England trees that are known for their foliage; however, we do have plenty of colors not only on trees but around wetlands and cranberry bogs. The coloring is very unique on Cape Cod and you must include it in your New England fall foliage itinerary!
After a day of exploring, come home to your room at The Old Harbor Inn and dream the night away about the splendid views you've gazed at all day. Our #1 rated Inn in Chatham is the perfect New England B&B for your fall foliage getaway. Here, you'll be able to unwind in the comfort of our luxurious rooms. In addition to being ideally located in downtown Chatham, we also offer a delicious homemade breakfast daily, complimentary parking, Wi-Fi, snacks, and non-alcoholic beverages 24/7. Call us today at 508-945-4434 to book your getaway!