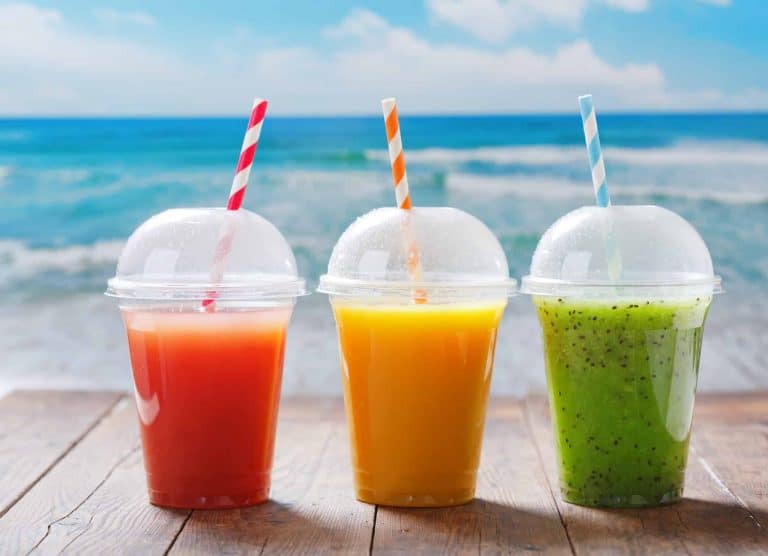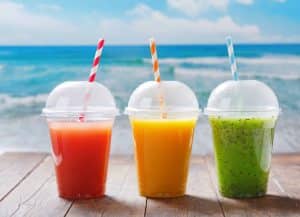 Cape Cod is famous for fantastic ice cream, but what if you want something a little healthier for some balance? Smoothies are a great frozen option, and there are several great spots to get one. Wherever your adventures for the day are taking you, you can stop by one of them and enjoy a refreshing healthy treat.
Chatham Perk has two convenient locations in Chatham. The original store is located on Orleans Road, less than a five-minute drive from the Inn and their new location is on Main Street just a short walk from the Inn. Chatham Perk is a great spot to swing by for a healthy treat. They not only have some amazing smoothies; they also have fresh juices and acai bowls. Our favorite flavor is the Cape Cod Smoothie, with banana, mango, and cranberry – sweet and tangy and refreshing! If you want a snack for the road, they have a huge pastry case with lots of fresh goodies, and they make salads and paninis too, for a complete experience!
Hidden away in the center of beautiful Harwich Port J.Bar is a true gem – Cape Cod's cutest & healthiest vegan cafe & juice bar. Serving only plant-based foods made with real unprocessed ingredients. Their menu is made from wholesome fresh foods. For the health-conscious person with special dietary needs such as Paleo, Vegan, Wheat Free, Gluten Free, Dairy Free, Raw Food or one just looking to empower your health by eating healthier, you will be very happy with a visit to J. Bar. They offer delicious juices, smoothies, power bowls, supplements, iced cold elixirs, salads, sandwiches, avocado toasts, house-made treats.
3. Viv's Kitchen and Juice Bar
Another great spot in Orleans for a refreshing drink. Alongside breakfast, lunch, and Brazilian specialties, they offer fresh-pressed juices, smoothies, and smoothie bowls. We love their Motherpucker juice for something with a little kick, and they offer a seasonal smoothie bowl that changes regularly, so there is always something new to try. To satiate that sweet tooth with something healthy, try their Holy Cacao smoothie – chocolate and peanut butter, yum!
4. Ring's Juice Bar at Ring Bros. Marketplace
If you are serious about your smoothies, Ring's is the perfect place for you. They have a huge selection of smoothies, specially designed for the healthiest impact. If you want to focus, they have their Banana Buzz; if you want to get your antioxidant dose, the Mega Matcha is a must-do (so yummy!). If you are looking for a full meal, the Whole 30 is perfect – healthy and filling ingredients topped off with a little bit of Cold Brew Coffee to get you through the rest of your day. All of their smoothies can be made on request, or if you are in a hurry, they sell them pre-bottled as well. Cruise around the market while you are there – there are tons of local treats to take home!
If you are vegan or have gluten sensitivities, this is the perfect spot for you. They have a fantastic Tropical Turmeric smoothie, which is just the right amount of sweet. They also have a great green smoothie – the OMG "Oh. My. Greens." The market also carries a wide selection of organic and diet-friendly food items and vitamins, so if you forgot something at home you can easily get it there.
Staying healthy is hard when you are on vacation, but there are always healthy options if you know where to look. At The Old Harbor Inn, we would be happy to send you to the best place for your food cravings, so call us and let us know how we can help make your Chatham visit perfect.