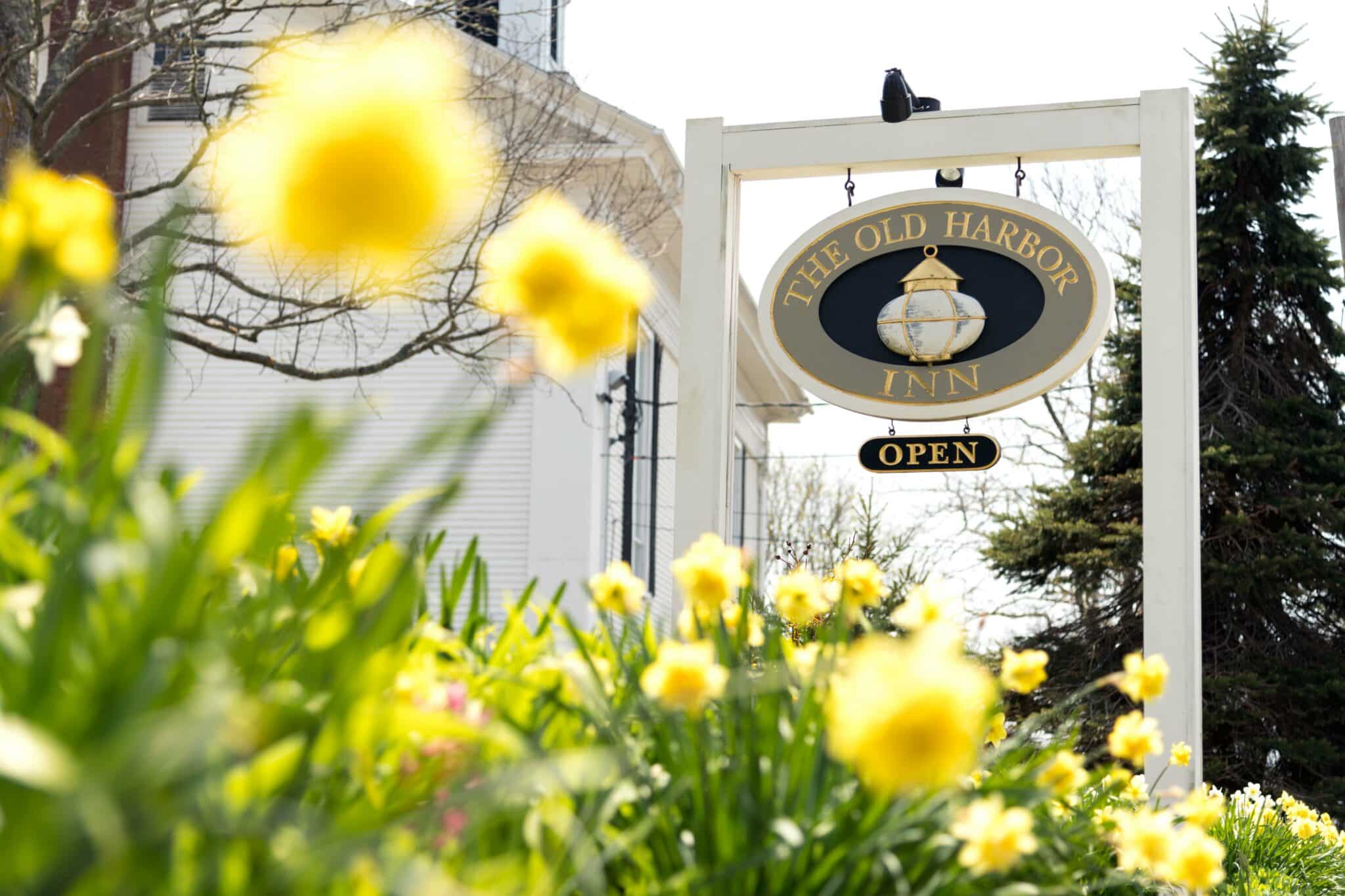 Spring is a fantastic time to visit Chatham.  The crowds have not yet arrived, but the weather is perfect for getting outdoors after a long winter.  Most of the businesses are reopened and ready for visitors, and of course, all of the hiking and biking trails are in full bloom and irresistible for nature lovers.  Chatham is the perfect village to stay in, with easy access to all of the attractions on Cape Cod.
Day 1:
Arrive at The Old Harbor Inn and get settled into your beautiful room.  During check-in, you will receive information on all the local attractions, restaurants, and activities to fill your stay.  Once you get unpacked, head around the corner to Main Street to check out all of the wonderful shops.  A few we highly recommend you stop into are The Mayflower Shop, Gustare Oil and Vinegars, Yankee Ingenuity, and of course, the Chatham Candy Manor.  If you feel ambitious, extend your walk to the Chatham Lighthouse, just a little over a mile from the Inn.  This is a fantastic stop for a photo op, plus the beach overlook is phenomenal.
Head back to the Inn to drop off your goodies, then head out to dinner at the Impudent Oyster or Del Mar.  After dinner, enjoy a bottle of wine by our firepit and let the stresses of the day disappear.
Day 2:
Start your day with a freshly prepared breakfast on the Inn's deck, and get some last-minute tips from the Innkeepers Ray and Judy.  Grab some of our complimentary baked goodies or snacks to take with you for energy on your day's adventures.  The first stop is the Monomoy National Wildlife Refuge on Morris Island.  This beautiful preserve is the perfect spot to look for birdlife and seals, as well as see the blooming landscape.  The trails are easy to walk, so take your time and soak in the sunshine.  Another great option for the morning is to rent bikes from Wheelhouse Bikes or Chatham Hood Bikes and cruise along the Cape Cod Rail Trail.  The trail goes for miles, through different towns and is paved the whole way, so you'll most likely go even further than you planned.  For lunch, the Chatham Cookware Café has a host of fresh offerings, or to get your lobster roll fix, head over to Mac's Chatham Fish and Lobster and grab a seat on one of their picnic tables.
For your afternoon, stop by The Atwood House Museum for a peek into the history of Chatham.  There are all sorts of interesting displays to poke through and interesting tidbits to learn.  There is also the Chatham Marconi Maritime Center where you can learn about the short-wave radio station that was based in Chatham for many years.  Our favorite museum to visit thought is the Atlantic White Shark Conservancy, which is dedicated to educating people about the majestic Great White Sharks who swim in the waters off the Cape.  For dinner, we highly recommend Blue Fins and Bistro on Main.  They have a rotating seasonal menu, and their cocktails can't be beat.  After dinner, relax in your room in front of the fireplace with a good movie – perhaps request our Artisan Cheese Board with Wine or Chocolate Covered Strawberries for an after-dinner treat.
Day 3:
Linger over your last gourmet breakfast before you pack up your room.  Before you drive away, take one last stroll around town.  Make sure to visit the Chatham Fish Pier to watch the fishing boats come in, and you will probably spot a seal or two who are hanging out in hopes of a treat.  Pick up some chowder from the market to take home for dinner.  Stroll down Lighthouse Beach, or take our favorite loop around Stage Harbor Road to stretch your legs.  On your way out of town, be sure to stop at Chatham Perk to pick up a delicious coffee and sandwich for the drive home.
The Old Harbor Inn is the perfect place to stay for your getaway to Cape Cod. Quiet, yet located just steps away from the heart of the village, there is barely a need for your car.  Book one of our unique and beautiful rooms, and be sure to add on our Romantic Package for that extra special touch.  Our concierge service will help you plan all the details, and the homey atmosphere will help you completely unwind.  We look forward to seeing you this Spring!