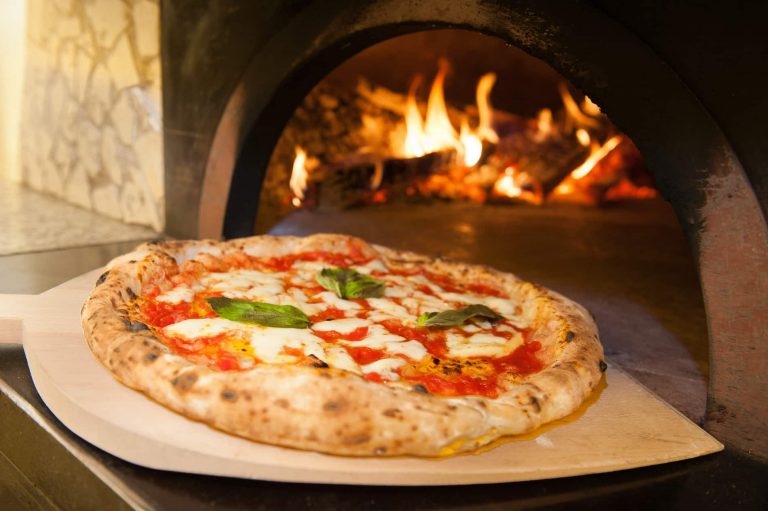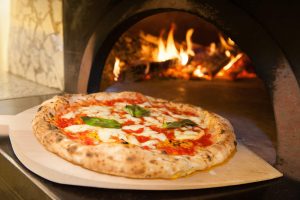 Cape Cod is famous for its delicious local seafood and we have plenty of it around. From casual seafood shacks to elegant oceanfront dining there is something for everyone. However, some days you just crave comfort food like pizza. We always get asked where the best pizza spots on Cape Cod are, so we decided to put together a list of some of our favorites!
Pizza Shark started as a local pizzeria inside the Pleasant Lake General Store on the Harwich/Brewster line. Pizza Shark delivers nightly not only your hand-tossed pizza but also beer, wine, and ice cream. There are a dozen pizzas with fun, shark-themed names, including "Mako-your-own" and a signature "The Great White" with olive oil, garlic, ricotta, buffalo mozzarella, and basil. We highly recommend ordering it shark-style with a drizzle of Calabrian chili oil. Pizza Shark now has a second location at the historic Orpheum Theater in downtown Chatham, across the street from the Inn. Beverages and pizza slices are available to eat at the theater while watching a movie, or order online for takeout and delivery from inside, with a convenient pick-up in the lobby.
George's Pizza House has been serving pies, pasta, and subs in Harwich Port for more than a half-century. Their delicious greek style pizza is one of their best and is made with feta, garlic, tomato, and spinach. There are also specialty pizzas including kimopita with homemade meat sauce topped with pizza cheese. George's makes delicious sub sandwiches and pasta as well as pizza, so it's not surprising to see pasta sauce on a pizza. George's has been open for more than 51 years, with a friendly, family vibe.
Carmine's Pizza is located in the heart of downtown Chatham just a short 5-minute walk from the Inn. They have been serving the town of Chatham year-round for nearly twenty years. All Carmine's pizzas begin with olive oil, their famous tomato sauce, and a special blend of cheeses. Our favorites are the Californian, Buffaloe chicken pizza, and their Calzones. They also make really delicious salads with great dressings on the side.
Located just steps away from the famous Cape Cod Rail Trail Stone L'Oven Pizza serves thin crust, Neapolitan style pizza that is hand-stretched/tossed and is cooked in a stone-fired oven directly on the stone for best flavor. They use all-natural products and their dough, sauce, and cheese contain no additives, preservatives, or weird chemicals of any kind. Try their Scallop & Pesto Pizza and Fig & Prosciutto.
Open year-round, Ember is the first coal-fired pizza place on Cape Cod! Their classic cheese pizza is a staple and is served well done from their 1,000-degree coal-fired oven. Don't miss out on their famous cookie pizza, while you're there. It's a must-try!
There are so many amazing pizza spots to try on Cape Cod and you will find a variety of cooking methods (from coal-fired to brick oven to wood-fired) and an endless array of fresh toppings (from shrimp and scallops to locally sourced vegetables) that offer a mouthwatering range of options for the most passionate of pizza lovers.
Our beautiful Inn is one of the top places to stay on Cape Cod and is within walking or short driving distance of all these amazing pizzerias. If you are not in a mood for eating out bring the pizza to the Inn and enjoy it on our cozy deck with a glass of local wine. Our B&B offers many outdoor dining options, elegant rooms, impeccable service, and the New England experience you seek when coming to Cape Cod. Browse our accommodation selection today and pick your favorite!