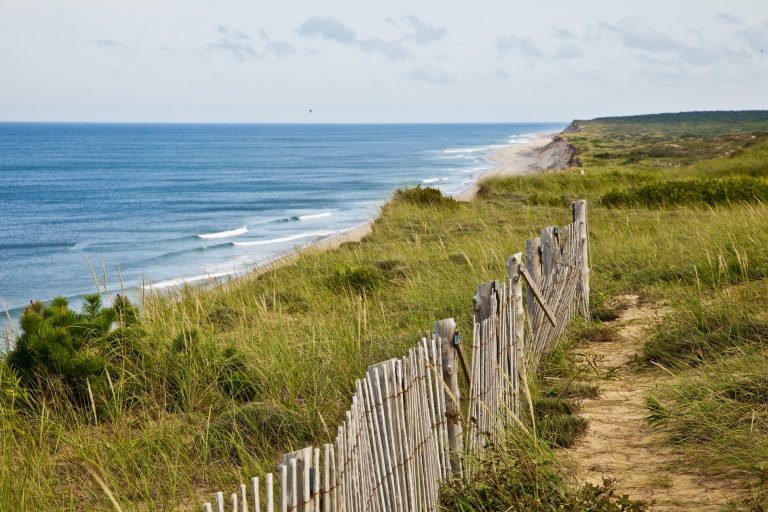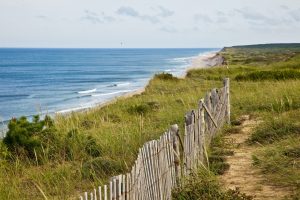 Slowly, temperatures are beginning to become a little warmer. That fabulous time when it's perfect to take trails and walk on beaches that will otherwise be more crowded come summer! It's also a great way to get your "steps" in and enjoy the beauty and clean crisp air of Cape Cod. Here are our favorite 5 hikes you can enjoy on the Cape this spring!
Hardings Beach, Chatham
The second parking lot at Harding's Beach is home to the beginning of a ¾ mile hike to the mouth of the Oyster River which flows in from the Nantucket sound. It's all soft sand and will give you a great workout. As you travel through the dune (this is a well-traveled area) be sure to check out Stage Harbor Light. The light no longer functions and it's a private home. Once you reach the shore of the river, you'll be amazed at how clear the water is! The current is swift and there is loads of room to spread out. If you continue to your right, you'll come to a sort of jetty that is directly in Nantucket Sound. It's a beautiful spot. We suggest going back to your car the way you came. The beach trail back to the parking lot is longer than the trail through the dune.
2. Hoxie Pond, East Sandwich
The loop trail at Hoxie Pond in East Sandwich is a perfect little 0.9 trail. Its managed by the Thornton W. Burgess Society. In addition to being an American Environmentalist, he was an author of children's stories. Perhaps he was inspired to write "The Adventures of Chatter the Red Squirrel", "The Adventures of Peter Cottontail" or "Lightfoot the Deer" from the beautiful area. Generally considered an easy route, it takes an average of 30 min to complete.
3. Sandy Neck Beach Park, Sandwich
Not too far from the Hoxie Pond Trail, you'll discover Sandy Neck Beach Park. You can choose to walk on hard-packed sand or to get a better workout, try walking on the loose, squishy dry sand. Which ever way you choose, you'll enjoy the beautiful sloping beach, views of Cape Cod Bay, and sand dunes formed by gentle and sometimes "not so" gentle winds.
4. Wellfleet Bay Wildlife Sanctuary, Wellfleet
Wellfleet Bay Wildlife Sanctuary is breathtaking! Silver Spring Trail is accessible from the visitor center. It's beautiful no matter where you look. Goose Pond Trail winds through a salt marsh that is populated with herons and all sorts of birds and creatures. Give Try Island Trail or Bay View Trail a try as well. The area is alive will amazing sites. If you are a photographer and if you are willing to rise early in the morning, you can capture stunning photos.
5. Peaked Hill Bars Historic District
Last but by no mean least, venture to the Peaked Hill Bars Historic District. Although the Cape Cod National Seashore does not permit walking on the dunes, there is one trail through the dune shack district that is an exception. There are no trail markers, you just follow the footsteps in the sand. Eugene O'Neill, Jack Kerouac, e. e. cummings, and Norman Mailer just to name a few, lived in the stark, primitive "huts" and enjoyed the tranquil space that lent to their creativity.
The Nature on Cape Cod is a free and beautiful gift we can all enjoy! It's all here just waiting for you. Treat yourself to a well-deserved spring getaway to our lovely town of Chatham and enjoy undisturbed peace and relaxation. You'll love our charming Inn, elegant rooms, and mouthwatering breakfast. What are you waiting for? Call us today at 508-945-4434 and let us help you plan your Spring getaway to Cape Cod!