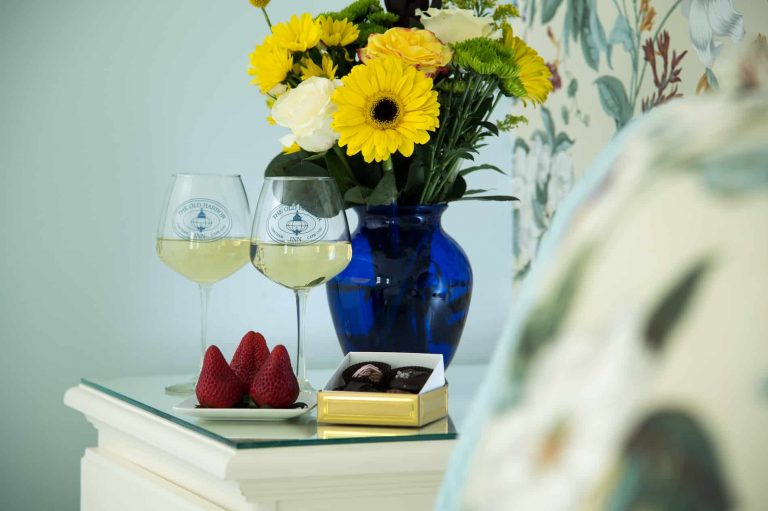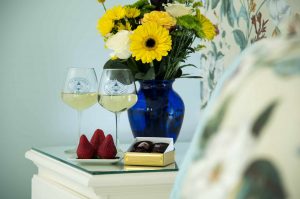 We are always looking for ways to make the guest experience exceptional. So, here's what's new for 2022 at The Old Harbor Inn! From our delicious updated breakfast menu to new website and updated rooms, you can always expect to find something exciting happening here at the Inn. Here are a few of the new projects we are working on!
Gourmet Breakfast
Breakfast is a big celebration at the Inn, and we constantly look for creative, satisfying, and fun recipes. Our crew has been working hard this winter perfecting recipes and creating the perfect menu for opening day. Breakfast is a special time at the Inn where you can meet fellow guests and interact with the Owners/Innkeepers. Due to the pandemic, outdoor dining has been so popular that we've added a brand-new patio set with a fire pit and we've updated the deck furniture. Also, we've added some lounge chairs and tables in the backyard. Our Pleasant Bay and Ryder's Cove rooms now have private patios where you can enjoy breakfast or late afternoon snacks. Breakfast is included with your stay and delicious treats are available around the clock. Did you know that we have our own cookbook full of amazing, easy-to put together recipes? Visit our Facebook page to purchase your copy!
Guest Messaging Software
We've integrated with a top-of-line messaging software platform that will allow us to communicate with all of our guests via messaging in real-time. In the past few years, we've learned that travelers, more than ever before, are looking for contactless experiences. You can now opt-in for text messaging instead of having to call. You can text us prior, during, and after your stay. Messaging has become the way of the world and we are happy to be taking part in the growing field of technology communication.
Room Upgrades
We love upgrading and renovating our rooms each year. This winter we've added two new luxury bathrooms in our Stage Harbor Suite and in Sutcliff's Inlet Room. The suite bathroom now has a Jacuzzi tub, a separate glass-enclosed shower, and a beautiful custom vanity. The Sutcliff's Inlet bathroom features a new glass-enclosed spa shower and a beautiful new vanity. A few of the rooms got new beds, reading chairs, and mattresses. We've replaced all of our pillows with the best in the industry, offering guests different firmness and more comfort.
Eco-Friendly Initiatives
With the discussion about climate change and plastic waste at an all-time high, Cape Cod is taking steps to help eliminate some of the vast quantities of disposable plastics. Many of the towns including Chatham are now banning the sale of single-use plastic water bottles, in an effort to keep the beaches and parks cleaner. Hopefully, this small step towards a greener future will soon expand further, and we here at The Old Harbor Inn are happy to do our part. Even before the ban came into place, we were discussing the best way to eliminate more plastic from the Inn. We were able to find a supplier who will provide us with reusable aluminum water bottles that our guests can use not only for the length of their stay but take home and use for a long time after. For refills, we have installed a filtered water dispenser in our breakfast room that offers hot, cold, sparkling, and ambient temperature water. We have always wanted to offer the best options to our guests, and we think this definitely delivers!
At The Old Harbor Inn, we always strive to create the best guest experience each and every day. Because we also strive to continually improve the guest experience, there's something new and exciting for you to enjoy each time you return. Our returning guests love to take advantage of our Some Time Next Year Special as well as our Frequent Stayer Program, which allows you to reserve the room of your choice for next year before you depart. You are guaranteed our best possible rate even if you have to change your date. We will also give you 5% off your booking! If you bring a second couple with you, they will receive the same offer. It's definitely a win-win for you! We want our returning guests to know just how much we appreciate them. We hope that you will all enjoy all of the improvements we've made, and we cannot wait to welcome you to the Inn this Spring.