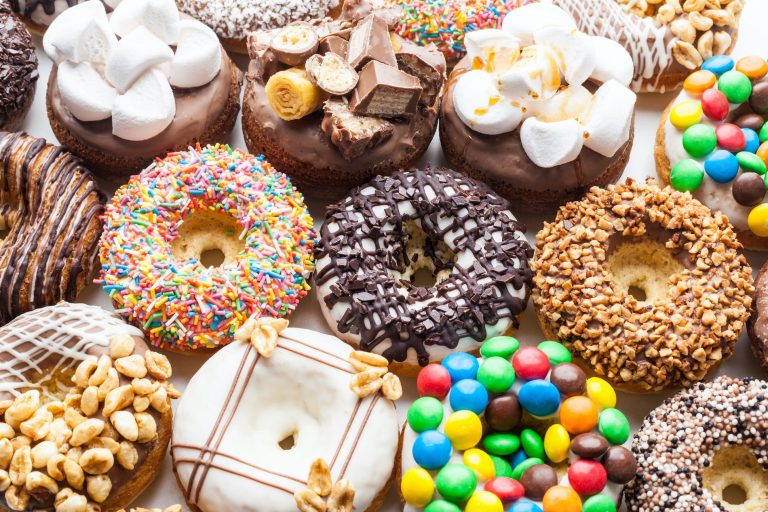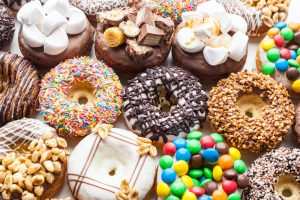 Did you know that June 3rd is National Donut Day? Donuts are easily one of the best treats you can indulge in. That is why almost every place has a donut shop that is so well known it draws lines around the block. In no particular order, here are the 5 best donut shops to visit on Cape Cod – from cereal-topped donuts to strawberry french toast donuts, you're going to want to hit all of these shops!
Duke's Donuts is on the top of our list for a reason. Yeasted and cake gourmet donuts hand-cut and made fresh on-site every day. They have a menu that varies every month with new goodies announced on the first of the month. You can always find a photo of the current menu on their Insta and some mouthwatering pictures. There is a very inviting atmosphere. Watching them make the donuts is pretty cool. They put a lot of thought and effort into creating the flavors and it shows. The donuts are always fresh and delicious, and we love that they have new flavors monthly. It's worth the drive to Mashpee Commons for some donuts and shopping. Some of our favorite flavors are Pinky Tuscadero, Cookies & Milk, and the traditional Boston Cream.
Come eat where the locals eat! Located in the heart of Orleans just a short drive from the Inn. This local jam has an amazing selection of "over–sized" hand-cut donuts made fresh daily. With over 800 5-star reviews on Google, Hole in One is hand's down one of the best places to get a donut on Cape Cod. Between the delicious dense cake donuts and the light and airy yeast donuts—there's something for everyone and on Fridays, they always have a new crazy donut. Local tip: if the Orleans location is too busy, zip over to the Eastham location. The drive might just take less time than waiting online.
Situated in the carriage house of an antique Victorian home in West Dennis this adorable donut shop is a must-try. Once the local penny candy store is now one of the most popular donut shops on Cape Cod. Their kitchen is designed so everyone can watch the delicious donuts being made and decorated. They have a great selection of fancy donuts, as well as a few staples and you can customize your own. Their selection changes each season! Their summer flavored donuts are our favorites. Try "Sunny Summer" with lemon glaze and coconut flakes or "Blueberry Pie" with vanilla glaze, graham crackers, and actual blueberry pie pieces.
Did you know that you can find some delicious donuts in a small food truck just off Route 6A in Sandwich? Seriously some of the best donuts out there and especially on Cape Cod. You can hire Scott Morse's Donut truck for weddings, birthdays, and any events. His adorable food truck is located near the Heritage Museum and Gardens. So grab some donuts and go explore the gardens. Definitely try the simple glazed, the blueberry, and his apple fritters. These cake donuts are light and fluffy inside and crisp and golden on the outside. They even throw in some donut holes with your order which is so nice!
A real treasure of Chatham. Their homemade doughnuts are phenomenal. They make all of the old-fashioned flavors. Choose from Cinnamon Sugar, Powdered Sugar, Plain, Chocolate Covered, Jelly Donuts, Boston Creams, and on Sundays they make their famous Tiger Tail Donuts. Grab a coffee and a donut and sit out on the patio and just enjoy yourself any time of day. They sell out quick!
Delicious, fresh, and good for your soul! We hope by now you're drooling and deciding which of these donut shops to visit first! The Old Harbor Inn is the perfect place to stay to try all of these amazing shops. Located on the elbow of the Cape we are within a short drive to all of them. Book today and start dreaming about your summer vacation!