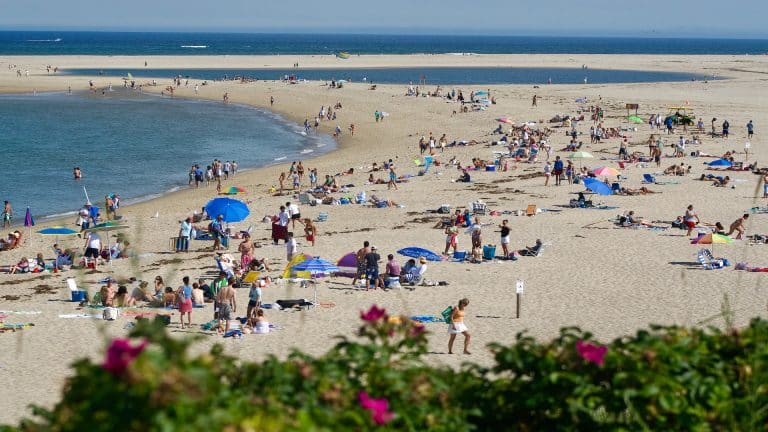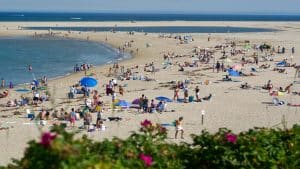 When you cross the bridges connecting Cape Cod to the mainland and drive down Route 6 just leave the real world behind and start thinking of beautiful beaches, sun, and salty air. Cape Cod is one of the most desirable and popular places to visit in the United States. The reason is its miles upon miles of breathtaking beaches from the bridges to the tip.
Why visit the Chatham Beaches? Chatham beaches are some of the best on Cape Cod. Chatham is situated ideally at the beginning of the Cape Cod Nation Seashore, known for its pristine sandy beaches, marshes, ponds, and lighthouses.
There is no doubt that Chatham can impress any traveler with its unique Main Street, historic Captain's homes, amazing restaurants, boutique stores, and summer baseball team.  But let's be honest, everybody comes here for the beaches! There are six beautiful saltwater beaches that welcome visitors with views of Nantucket Sound and the Atlantic Ocean. The most scenic and photographed by far is the Chatham Lighthouse Beach.
Chatham Lighthouse Beach
It's hard to explain the beauty of this beach. You have to see it for yourself.  Located just 1.2 miles from The Old Harbor Inn, this ever-changing barrier beach system should be on your bucket list. New inlets, shoals, and sandbars can form almost overnight attracting swimmers, kayakers, kite sailors, and others.  This beautiful expanse of sand offers nature walks out to Monomoy National Wildlife Refuge plus views of the daily migration routes of Chatham's many seals and fishing boats. Bring binoculars to increase your view for some amazing bird and seal watching. Last but not least, the Chatham Lighthouse beach is the best place to spot a sunrise and get a good stretch during beach yoga. The Chatham Lighthouse is a free beach however the parking is limited to 30 minutes. There is public parking on Chatham Main Street that offers a beach shuttle for a fee.
The beach sits below the watchful gaze of Chatham Light, an active Lighthouse at the U.S. Coast Guard Station.  Well known as the home of the greatest coast guard rescue by a small boat in U.S. history. On February 18, 1952, during a harsh nor'easter, 503-foot oil tanker the SS Pendleton split in two off the Chatham coast. Four men from the Chatham Coast Guard set out in a wooden 36-foot motorized lifeboat – braving the winter storm and 60- foot waves to save the Pendleton's crew. This story also has a connection to The Old Harbor Inn. The first owner of the Inn Dr.Caroll Keen was the only doctor in Chatham at that time and he was the one helping the 32 rescued men as they arrived at the Chatham Fish Pier.  This true story was beautifully portrayed in Disney's movie "The Finest Hours" which was filmed in Chatham in the fall of 2014. You can see the movie on the big screen at the Chatham Orpheum during the summer months.  The rescue boat still exists and can be seen in Orleans at Rock Harbor. The Chatham Light is typically closed to the public, however, during the summer months, there are regularly scheduled tours.
2. Harding's Beach
Harding's beach is a warm and calm beach off the Nantucket Sound. The beach is a great spot to spend the day, capture glimpses of the sunset, or walk the trail leading to the second lighthouse in town, Stage Harbor Light. Beach passes for parking are $20/day or $75/week. The beach has a bathhouse with showers and food service trucks offering from ice cream, hotdogs & burgers to amazing tacos. This is Chatham's most family-friendly beach. You will find more than enough room for long walks, beach games, and water sports.
3. Cockle Cove Beach
If you are trying to escape from the big crowds, Cockle Cove is a hidden gem. There is plenty of parking and a short walk to the neighboring Ridgevale beach. Do not expect big waves at this Nantucket Sound Beach, however, you will enjoy the warm water and calm protected swimming areas. This beach is popular among windsurfers and kayakers.
4. Ridgevale Beach
Located between Harding's Beach and Cockle Cove, with Buck's Creek and Eel Creek on either side, this beach offers both ocean swimming and calm creeks to splash around in. The water has gentle waves and crystal clear pools to catch minnows and collect shells. A great addition to this beach is the snack bar on site, sailboat rentals, and bathroom facilities.
5. Oyster Pond Beach
This saltwater pond is just a short walk from The Old Harbor Inn. If you do not want to drive and just looking for a good swim in very warm and calm waters this is the place for you. Oyster Pond offers very scenic views, restrooms, and picnic tables. Great place to catch a sunset!
6. Pleasant Bay
This sheltered cove for swimming offers warm and shallow waters and scenic views of the tide in the meandering cove. Good for kayaking and sailboarding.
Chatham is full of breathtaking beaches and it can be hard to choose one. The vast white sandy beaches offer a diversity of choices, including, salt water and fresh water beaches, calm water and big waves, and a range of sizes from small secluded beaches to huge beaches with plenty of room for walking and sunbathing. Cape Cod beaches are among the finest in the world!
Make your beach getaway to Cape Cod even better by treating yourself to a stay in luxurious lodging! The Old Harbor Inn is a cozy Cape Cod bed and breakfast tucked away in the lovely town of Chatham, Massachusetts, perfect for enjoying a weekend of total comfort and relaxation. We offer newly renovated rooms, each equipped with the finest amenities, in a peaceful environment.  You're bound to love your time with us, so check our availability online right now to book your favorite room!