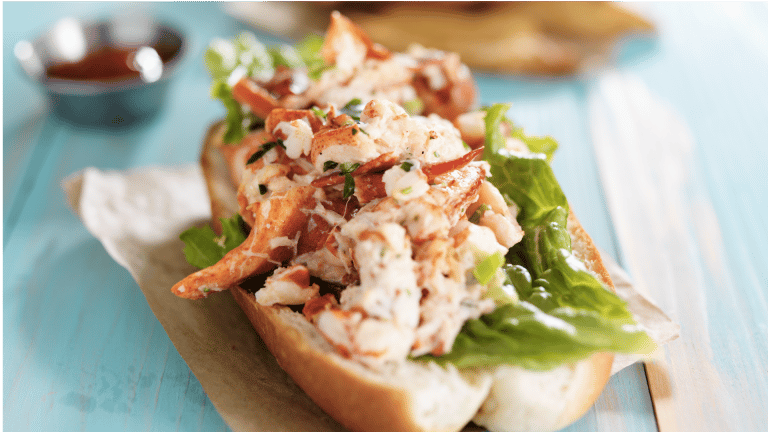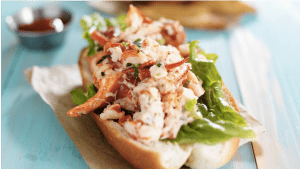 Lobster rolls are an iconic summer food when you are by the seaside.  Filling and delicious, they are a fantastic option to enjoy during your time in Chatham.  There are many places offering their own take on this classic sandwich in and around town.
Lobster rolls come in two varieties; warm with butter and cold with mayonnaise and celery. Which one is better? It's really up to you! One thing is for sure, they are all delicious and a must-have-summer staple on Cape Cod.
The Chatham Pier Fish Market is a great place not only for fresh seafood, but to pick up a delicious lobster roll for lunch.  You can sit on rustic picnic tables and watch the fishing boats docking, and be sure to keep an eye out for seals sunning themselves.  Another Chatham classic is the Kreme and Kone.  With a casual atmosphere and friendly staff, their generous serving of fresh lobster on a split top bun is sure to please. Their Lobster Roll Boat comes with French fries, and onion rings and you can add whole belly fried clams (the best in town).  If you have a sweet tooth their soft serve is to die for.
A new arrival in Chatham is the extension of Chatham Fish and Lobster, Mac's Seafood restaurant.  In addition to hot or cold lobster rolls, this local gem offers a great nautical atmosphere with seating inside and outside. They serve beer and wine, New England staples such as fried shellfish, Clam bake (lobster, corn on cob, and steamers), and Mac's mouthwatering clam chowder are not to be missed while visiting Chatham.
For waterfront dining in Harwich, just a short 10-minute drive from the Inn, Brax Landing serves arguably the best Lobster roll on Cape Cod. On a warm evening, you can sit on their patio and watch the boats come into the harbor.  Another scenic setting located on Route 6A in Dennis is Sesuit Harbor Café overlooking Cape Cod Bay. The lobster roll is stuffed with five to six ounces of lobster meat and comes with fries and coleslaw. Capture a beautiful Cape Cod sunset while enjoying their raw bar and famous lobster roll.
Up the road in Orleans, try the Knack. A typical roadside stand with a modern twist. They work with local fishermen and local farms for a fresh and local taste. After a day of exploring the Cape Cod National Seashore beaches, this might just hit the spot. On their menu of course you will find a variety of Lobster Rolls, burgers, hot dogs, and even milkshakes.  Located right on the water, the setting overlooks Town Cove beach in Orleans.
A Cape Cod staple, Arnold's in Eastham has been serving lobster rolls for over 40 years. Arnold's fresh-picks its lobster meat throughout the day and serves a standard four-ounce roll or a jumbo version with twice the lobster meat. A bonus, while you are waiting for your food you can enjoy their miniature golf course, located just steps away from the restaurant.
From small shacks hidden away from the beaten path to well know staple eateries, Cape Cod's lobster rolls are some of the best in New England. If you have not booked your summer getaway to Cape Cod yet, Chatham is the place to be this summer. The Old Harbor Inn located in downtown Chatham has 12 beautifully appointed rooms offering an intimate atmosphere with all the amenities of a large hotel.
Call us today and let us plan your itinerary for your upcoming Cape Cod vacation!