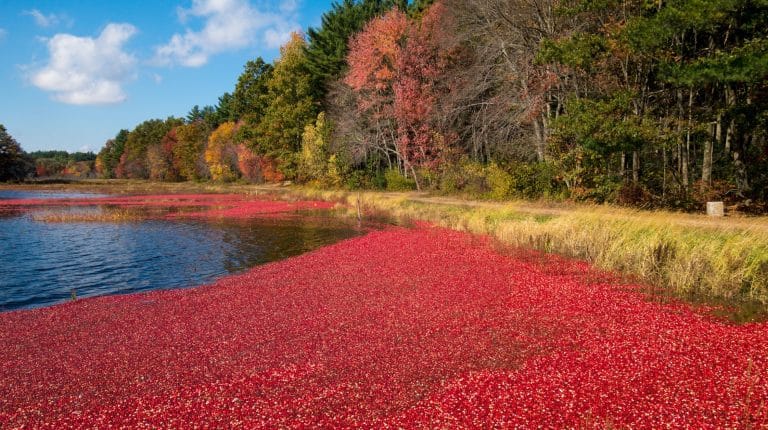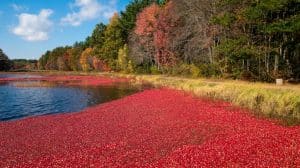 It's cranberry season on Cape Cod and with just a short drive around the area, you are able to find many bogs being harvested during the fall months. The bright red colors of the berries are absolutely stunning and a beautiful sight to see while visiting Cape Cod this fall. Our guests are always curious about the best time to visit a bog, what tours are being offered, and what to do with the fresh cranberries. Here we will try to answer all of your questions and recommend our favorite Cranberry Bogs on Cape Cod that currently offer tours.
The cranberry is a wild and native fruit of Cape Cod. Cranberries benefit from exposure to sand and grow in marshes and ponds. Cranberry Bogs thrive on Cape Cod because of its unique climate and natural recourses. We are fortunate to have so many Cranberry Bogs on the Cape within a short drive from the Inn that guests can enjoy. Visiting one is best during the harvest season which is from mid-September to mid-December. Fall is the ideal time to come observe the berries in all their ripened glory. The bright red berries floating on the surface of the bog make for some amazing fall backdrops. To learn more about cranberry history, check out the Cranberry Growers Association website.
Sure, apples and pumpkins are the go-to "pick your own" for fall, however, our favorite is touring a cranberry bog. Each year we purchase enough fresh cranberries to put in our freezers to last us the entire year so we can bake all our delicious cakes and scones. They are considered an antioxidant-rich "superfruit" loaded with vitamin C. Check out the many health benefits of cranberries here.
There are plenty of farms on Cape Cod where you can tour cranberry bogs. The following three cranberry bog tours are our favorites. You have to plan accordingly and reserve your tour dates.
Leo and Andrea Cakounes operate the largest organic cranberry bog on Cape Cod. This bog is located in Harwich, MA, and daily tours of the bog are offered seasonally. During your visit, you will learn about the 12-month operation of a cranberry bog, see the equipment, and visit the farm animals. Bring field glasses or binoculars if you have them, and bring a camera. The tours are by reservation only and last 1.5 hours. The price is $15 per person.
Cranberries have been a part of Annie's family-long tradition. After working for over 25 years as a Broadway production wardrobe supervisor Annie left her job to start her own tradition of growing cranberries on the Cape. After an extensive search and negotiation, she acquired the Dennis bog formally owned by her grandfather. This endearing bog has a fantastic gift shop that is open during the harvest season. They sell fresh berries, bogside honey, beeswax candles, jams, soaps, and Annie's Crannies Gift Boxes. Tours start at 11 a.m. daily!
This is a fun, interesting, and educational tour of one of Cape Cod's most historic industries. You will learn about the history and cultivation of cranberries and will see cranberry bogs blooming, growing, or being harvested, depending on the time of the year. Tours are given by growers with over 28 years of knowledge and experience. It's a walking tour, so wear comfortable walking shoes or sneakers. Also, do not forget your binoculars as there are often sights of interesting local birds and wildlife. Their tours are given directly at the bogs. They operate over 60 acres of bogs in 3 towns. Tours are by advance reservations only.
Please call in advance to discuss location and availability. The price for tours is $20 pp.
Fresh cranberries are available for sale to pick up or to be shipped from mid-September to December. Fresh cranberries make for a great gift, especially for somebody who bakes cakes, bread, and pies.
Each of these cranberry bogs offers slightly different experiences, however, all of them are a great way to spend a fall day on the Cape. After a day of exploring the Cape Cod cranberry bogs return to our beautifully decorated Inn for fall with plenty of pumpkins, mums, and cranberry-filled freshly baked goodies! Sit back, relax, and enjoy our cozy rooms with fireplaces. Enjoy our homemade breakfast in the morning with more fall-inspired dishes. Book a stay today and take advantage of our enticing fall packages.