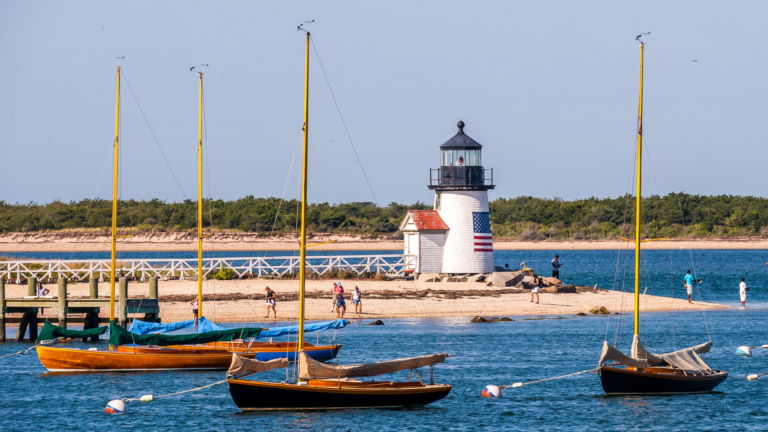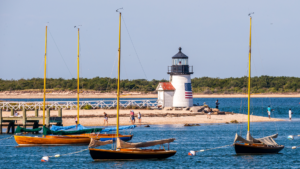 When visitors come to Cape Cod, they all have wonderful ideas of what to do. Some of our guests at The Old Harbor Inn enjoy staying close to Chatham and seeing the sights here. We also have other guests that like to venture out a bit more and enjoy seeing as much of Cape Cod and the islands as they possibly can. We like to encourage our guests on either side of this spectrum to enjoy Cape Cod. One part of Cape Cod that some visitors tend to leave out is planning to visit Nantucket while they are here. There are so many ways to visit Nantucket and a lot of fun ways to spend a day there. Here are some of our top choices to help formulate a plan to visit Nantucket on your next trip to Cape Cod.
Our first choice, when you plan to visit Nantucket, is to rent a bike and enjoy the warm air and see Nantucket how it's meant to be seen, outdoors. Check out Nantucket Bike Tours where they will have everything that you will need to enjoy an afternoon in Nantucket. They have two tours to choose from, classic and custom, and both are amazing. After the introduction to the island and its unique history and culture, you will hop on bikes and visit the Brandt Point Lighthouse, Jetties and Galley beaches, Steps Beach lookout, the Oldest House, Old Mill and then continue to Main Street to see the historic mansions & houses that the wealthy whale oil & candle factory owners & whaling Captains built. Then head into town to hear some of the interesting history of several famous and perhaps infamous historical figures from the island. The tours take approximately 2 1/2 hours. The fee for the tour is $50 per person per hour.
Another wonderful way to visit Nantucket is to explore its history which can be found through the Nantucket Historical Association. One of the best properties within their umbrella is the Nantucket Whaling Museum. When you go to the Nantucket Whaling Museum, you will get to look at many artifacts from the past as well as the huge sperm whale skeleton which is always a popular exhibit. You will also get to see pictures of men and women who were a part of Nantucket's whaling past. Another must-see property is the Nantucket Lightship Basket Museum. Located in the Hadwen House on upper Main Street, visitors can see more than 100 Nantucket lightship baskets, exploring artistry and innovation from land-based origins to nineteenth-century lightships into the twenty-first century.
One thing that Nantucket is known for is its amazing wine. When you plan to visit Nantucket, be sure to check out Cisco Brewers. They are in charge of Cisco Brewers, for beer, Nantucket Vineyard, for wine, and Triple Eight Distillery, for spirits. They offer wonderful tours that are scheduled on their events page. If you would like to schedule a private tour, that can be arranged as well. Be sure to check out how to take a bottle of your favorite wine back home with you.
A lot of our guests who chose to visit Nantucket, just want to simply relax. One way of doing that is to visit Nantucket's beaches. Take one of Elin Hiderbrand's romantic novels and spend the day reading and hopping into the refreshing water for a quick dip when you get too warm. One popular beach is Madaket Beach, located on the western end of Nantucket. Known for spectacular sunsets, enjoy watching one after dinner and before you head back to the mainland of Cape Cod.
The last way to relax during a visit to Nantucket is to enjoy a round at one of their fantastic golf courses. One, in particular, that is fun is Miacomet Golf Club. You can rent clubs if needed to play on their course and there are golf cart rentals available as well. Be sure to check out their great rates as well. Need some help with your game? Have a lesson with a pro! As with any great golf course, when you get hungry, grab a table at their restaurant.
As you can see when you plan to visit Nantucket, you can have a great time. Having wonderful places like these is one of the many reasons why people enjoy coming to Cape Cod when they plan a vacation. When you do decide to come to Cape Cod, we hope you will consider staying with us at The Old Harbor Inn. Our wonderful B&B in Chatham is an ideal location for visitors who want to do close by or export the rest of Cape Cod and the islands. Guests love staying in our comfortable beds and our luxurious linens help put our guests to sleep with ease. Contact our wonderful staff today at 508-945-4434 and start planning a trip to Cape Cod today. Want more ideas for fun Cape Cod activities? Check out our Vacation Guide!