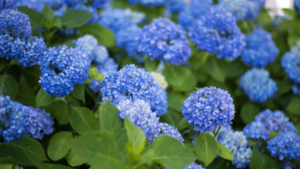 Summer is finally here, and our gardens are spectacular. If you explore the winding paths around Chatham during the summer months, you might think you have arrived in hydrangea heaven. Visitors from near and far marvel at the sea of beautiful hues, from purples and pinks to blues and burgundies. Here are some of our favorite places where you can see beautiful Cape Cod flowers.
Cape Cod Hydrangea Festival, All Cape Towns July 7 – 16, 2023
The Cape Cod Hydrangea Festival is an annual cape-wide celebration of the region's blue, pink, and white signature flowers and everything gardens on Cape Cod! This ten-day festival's main attractions are the daily tours of private gardens, each designed and maintained by individual homeowners and carrying a unique charm. Private garden tours are $5 per person per garden. You can pay cash at each garden on the day of the garden tour. Each garden is open from 10 am to 4 pm.
Heritage Museum & Gardens, Sandwich July- September
Walk through the beautiful gardens at the Heritage Museum & Gardens and explore the many varieties of the iconic plant that makes the Cape so stunning from July through September. When you visit, pick up or download their self-guided tour through the grounds to discover more about Heritages' 8 species of hydrangeas and over 170 exceptional cultivars. Stroll through the expanded North American Hydrangea Test Garden and the Cape Cod Hydrangea Society's Display Garden. They have the largest collection of hydrangeas on the East Coast.
Nantucket & Martha's Vineyard
A day trip to the Islands is a must-do while visiting Cape Cod.  You can spot these famous blooms all over the islands of Nantucket and Martha's Vineyard. The islands are the perfect place where you can find a cool, summer sea breeze during the hot summer months and find many gardens, parks, and private homes decorated with blooming hydrangeas. If you're looking for the perfect time to visit during peak bloom schedule your trip in July.
The Old Harbor Inn Gardens, Chatham July-August
Summer is the perfect time to visit the Cape and stay at The Old Harbor Inn in downtown Chatham. Our gardens are in full bloom and our front path to the Inn is covered with colorful hydrangeas. Chatham is also the perfect town to spot the Cape Cod hydrangea in full bloom. There are three prime locations to spot hydrangeas in Chatham. These include Main Street, Chatham Bars Inn, and the "Hydrangea House" on Shore Road.  Main Street in Chatham has some of the best restaurants and shopping on Cape Cod, and our favorite ice cream store, Buffy's. You can easily walk from the Inn to Main Street to Chatham Bars Avenue to Shore Road. If you take this route, you will walk right by the "Hydrangea House". The surrounding residential areas are stunningly beautiful and usually filled with hydrangeas.
Are you curious about how to best maintain and care for the iconic and finicky flower? Ray will be more than happy to take you on a garden tour of the Inn's lush and colorful gardens, which include many different varieties. Hydrangeas can be a tricky plant to grow but we are a little spoiled on Cape Cod as they grow well here due to our sandy and acidic soils which allows for good drainage. Our most popular hydrangea is Endless Summer, which can be seen on about 75 percent of our property in different colors. We also have Tellers Blue, Lace Cap, Blushing Brides, and climbing hydrangeas.
Come stay with us, check out our boutique rooms which are oh, so comfortable, and enjoy our delicious homemade breakfast which never disappoints. Mid-July is the perfect time to come see the hydrangeas on Cape Cod when they are at their peak and to enjoy the many events and tours of the Hydrangea Festival.