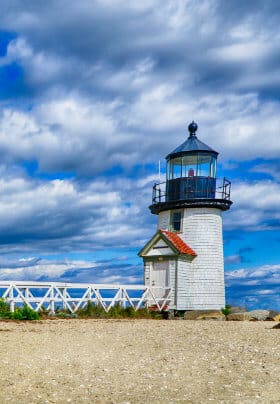 Many people who come to Cape Cod plan to spend a day on Nantucket, but are not quite sure what they want to do while they are there. Here is our suggested itinerary for a fun filled day trip to this quaint island.
After your delicious homemade breakfast at the Inn, head over to Saquatucket Harbor in Harwich Port and catch the Freedom Cruise Line ferry over to the island. The ferry is an easy 10-minute drive, and there is ample free parking in their newly built lot. The ferry ride is about 80 minutes, so sit back and relax as you cruise across the Nantucket Sound.
Once you disembark in Nantucket, head over the visitor's center on Federal Street and hop on board Gail's Tour in her bright red van. A sixth generation Islander, Gail is full of stories and interesting facts about the island. She will take you around to all of the popular spots, and tell you some not so well-known tidbits. The tour is about 90 minutes, with plenty of photo opportunities. The cost is $35 per person.
As you return to the town, walk over to the Whaling Museum. This is a spot not to miss! Nantucket was once the whaling capital of the world, and has a colorful history for you to explore. There are many artifacts from the whaling days, as well as from the settler's homes, helping you to build a good picture of what life was like for the families in the 1800's. They also have one of the best harbor views in the city – just head upstairs to Tucker's Roofwalk.
Once you return to ground level, take a stroll along the cobblestone streets and admire the buildings. Another wonderful site to visit near the Whaling Museum is the Nantucket Basket Museum.Go back in time and see how the original lightship baskets are made. If you are lucky enough you might even be able to participate in a demonstration.
Many of shops and restaurants are in the original buildings from when the island was first settled. There are many options for clothing, keepsakes, and beach goodies, so be sure to take your time when you are browsing. The same goes for dining options – from casual to formal, there is certainly something to appeal to any appetite. If you are looking for a great harbor view, creative cocktails and amazing raw bar go to Cru for a casual island dinning. If you prefer a more formal and elegant setting the Straight Wharf is the place to be!
End your day in paradise with a delicious ice cream cone from the Juice Bar located right by the ferry port!