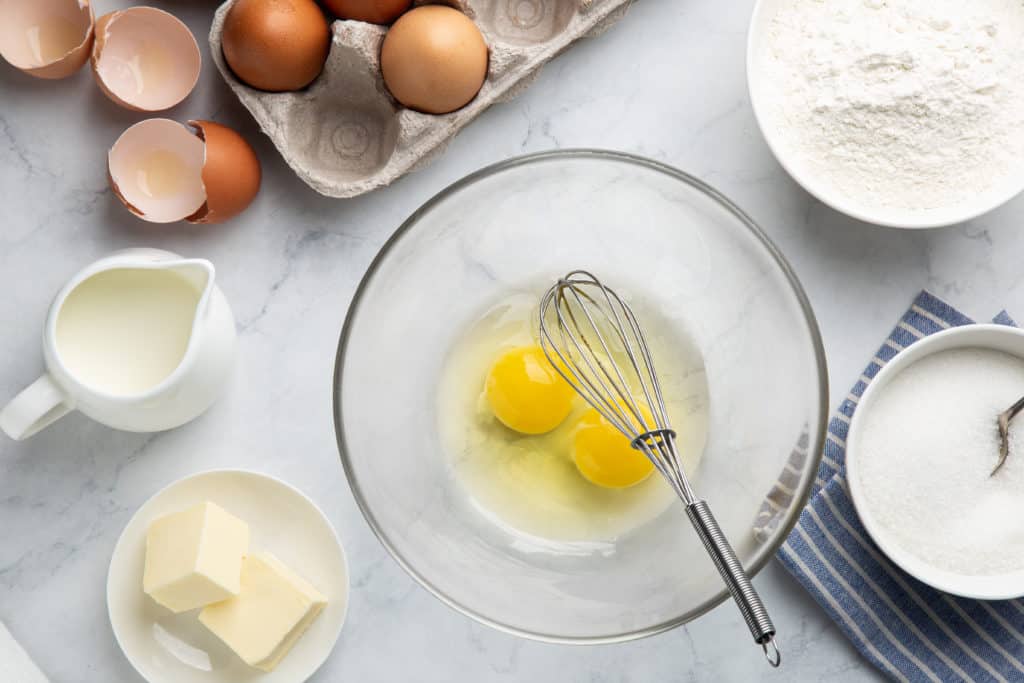 Baking is one of our favorite things to do at the Inn! Seeing how much our guests enjoy our treats puts big smiles on our faces. Baking doesn't have to be intimidating or difficult. Actually, it's a lot of fun and the final result is very rewarding. If you would like to bring a piece of The Old Harbor Inn into your home and have the sweet aromas wafting out of your oven you can follow our simple steps and succeed in the kitchen.
Over the 25 years of owning the Inn, we've tried hundreds of recipes from the previous owners of the Inn, local bakeshops, magazines, online, and from a guest that wanted to share their family recipes. Some of them we modified and made our own, others we perfected over the years. We've made many mistakes along the way and learned a thing or two. We've published our first Cookbook in 2016 with all of our staple recipes we make at the Inn and have been adding new ones every year. The book can be purchased at the Inn or we can ship anywhere in the U.S. free of charge. The recipes in the book are easy to make and offer step -by- step guide for success. We would like to share some basic baking tips and tricks that will help you increase your chances of having the perfect cakes, cookies, and bread every time you bake.
Room Temperature Ingredients – remember to bring refrigerated items like butter, eggs and dairy ingredients to room temperature before you start to assemble your recipes, at least a couple of hours prior to baking. Room temperature ingredients emulsify much easier into the batter, which creates a uniform texture throughout baked goods. Always use unsalted butter when baking.
Choose a high-quality ingredient – flour is one of the most important ingredients, King Arthur Flour is our favorite and it does wonders. Make sure you always sift your flour and sugar! Always use fresh fruit and their juices; for example, for a lemon bread squeeze the juice of a fresh lemon and use its zest. Use high-quality spices and extracts, we only use Pure vanilla extract or Vanilla Bean Paste. Also, we have a local spice company where we get to purchase high-quality cinnamon, nutmeg, etc., they are so fragrant and make a huge difference.
Measuring Ingredients Properly – excellent baking requires precise ratio and measuring which is a key. Think of baking as chemistry, one small adjustment can cause a big disaster. Follow the recipe to a tee. Perhaps, now is a good time to purchase a scale and learn how to use it! Make recipes as they are written and avoid making substitutions at least until you feel confident baking.
Mix it right – dry ingredients should be combined together thoroughly in one bowl before you combine with liquids. Do not over mix your batter, you can gently fold it with a spatula. When the batter is ready, put immediately in the preheated oven, do not keep it on the counter for an extended time. You will end up with dry cakes or cookies.
Grease, flour and let the air circulate – cake pans should always be thoroughly greased and floured, so the cakes can come out of the pan easily after cooling. When you place your pan in the oven, place it in the middle of the center oven rack to allow for air circulation.
Is it done yet? – to be certain if your baked item is done, carefully insert a cake tester or wooden toothpick into the middle of the baked good. Be careful not to insert it into any moist ingredient like jam. Your baked good is ready to enjoy when the tester comes out clean.
This is a terrific time to get in the kitchen and do some baking! It's a great way to reduce stress and take your mind off of all that's going on in the world. Try something new, be brave. Make something for your family to share and put smiles on their faces. It will brighten your day and theirs.
Give baking a try; if you've never baked before, what are you waiting for? And if you haven't baked for a while, go for it! Remember baking is chemistry you have to be precise and trust the "dough" as Judy would say! Be confident and positive and the outcome will be perfect!
Happy Baking!
Your Old Harbor Inn Family