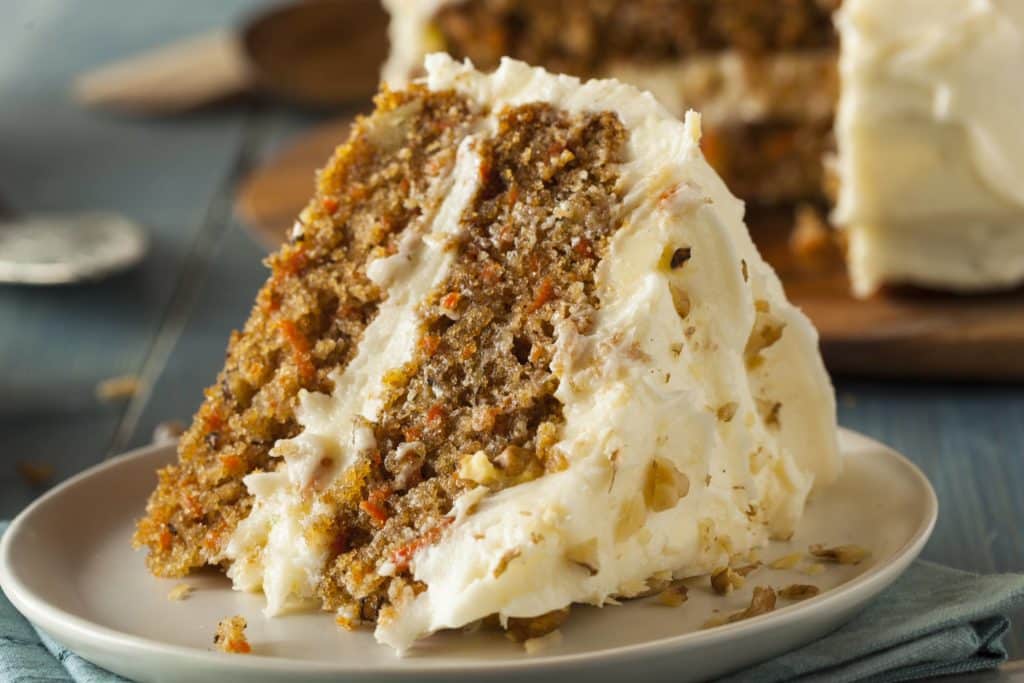 We know most of you are spending extra time at home right now and we wanted to share with you our favorite Easter Recipe, our delicious Carrot Cake with Cream Cheese Frosting. Follow our baking steps for success and prepare this decadent cake for the whole family!
Easter Carrot Cake
Cake
2 ½ cups all-purpose flour
2 tsp. baking soda
1 tsp. pumpkin pie spice
1 tsp. ground cinnamon
½ tsp. salt
1 ½ cup sugar
1 ¼ cup vegetable oil
4 eggs
1 ½ vanilla extract
3 large carrots, finely shredded
1 can (8 oz.) crushed pineapple in juice
½ cup golden raisins
Frosting
8 oz. cream cheese, softened
4 tbsp. unsalted butter softened
3 cups confectioners' sugar
1 tsp. vanilla
Chopped walnuts, for garnish (optional)
Directions:
Preheat oven to 350 degrees.
Prepare the cake: Coat bottoms of three 8×2-inches round cake pans with nonstick cooking spray. Line bottom pans with wax paper and coat with spray. In a medium-size bowl whisk all dry ingredients. In a large bowl, mix the rest of the ingredients until blended. Mix dry and wet ingredients by hand just until smooth. Divide batter among prepared pans. Place 2 of the pans on the middle rack of the oven and the third pan on the top rack. Bake for 30 minutes. Cool in pans for an hour and turn out onto wire racks.
Prepare the Frosting: Combine all frosting ingredients and beat until fluffy.
Place one layer on a serving plate and spread ¾ cup frosting over top. Repeat with the second layer. Place the third layer on top and spread with one cup of frosting and use the remaining frosting to cover around the side of the cake. Garnish with chopped nuts around the edge of the cake, if desired. Refrigerate for at least 1 hour before serving!