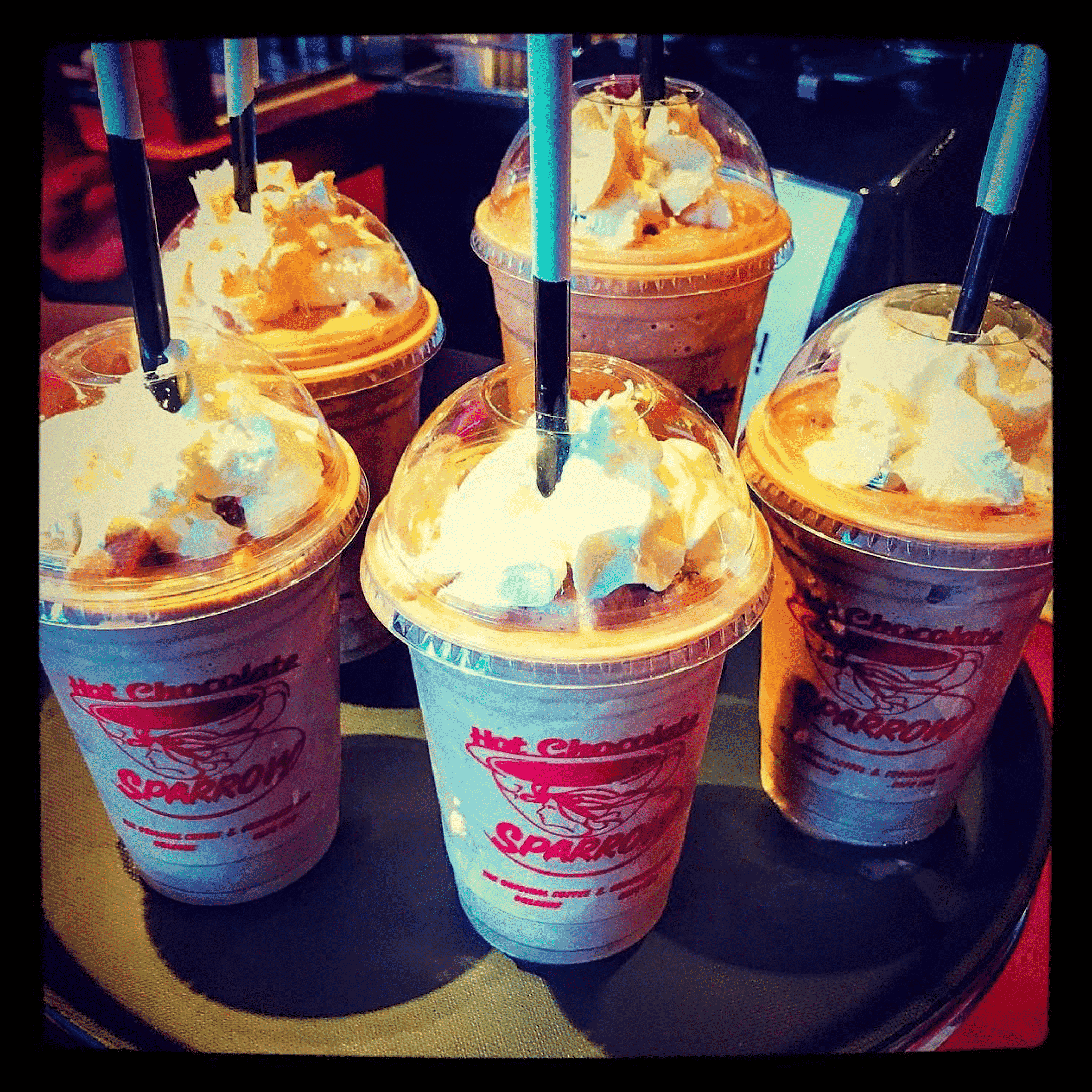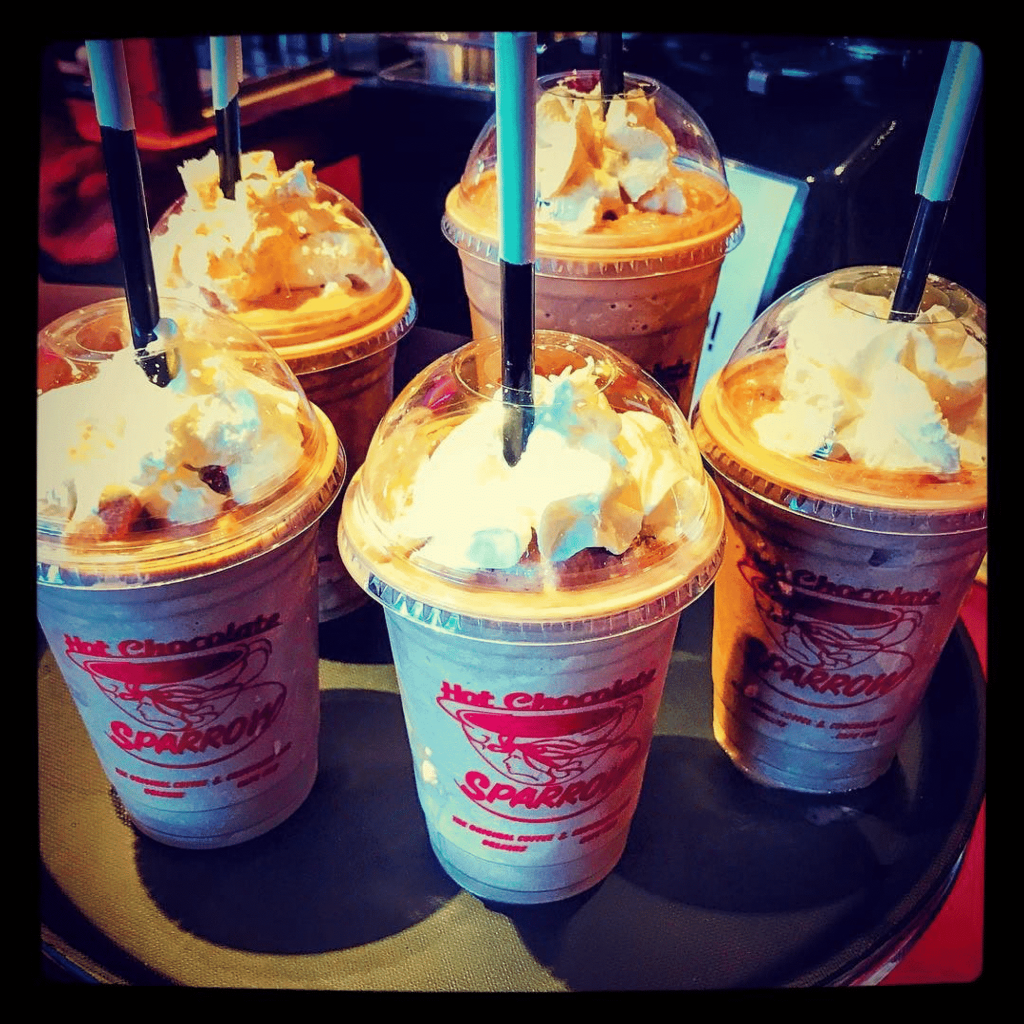 Coffee is the most widely consumed beverage in the world, and the average American drinks 3 cups per day.  With the prevalence of Starbucks, Dunkin Donuts, and other coffee chains, it's easier than ever to get your caffeine fix.  But some of the best coffee isn't from a chain store – it's from your local mom and pops coffee shop.  Not only will your coffee be better, but you are supporting a small business which is always something we encourage. With the temperatures quickly rising we are always looking for a refreshing pick-me-up drink and our local baristas are sure to mix up something really yummy for you this summer. Here are some of our favorite specialty coffee shops.
Our top pick has to be the Hot Chocolate Sparrow, located just off the Cape Cod Rail Trail in Orleans. Not only do they offer hot, cold, frozen, and specialty drinks but this charming shop also has an attached chocolate store with all sorts of handmade goodies. You can't go wrong with this coffee chocolate combo.  The Frozen Mocha Sparrow is definitely a favorite icy treat for a hot summer afternoon. Also, try the Frozen Raspberry Bash, which is a frozen hot chocolate with bananas or raspberries.  They also have freshly baked goodies that are absolutely delicious, and you can even purchase whole cakes if you order ahead.  They have a selection of panini sandwiches as well for a quick lunch on your way to the beach.
Another popular coffee shop is the Snowy Owl Coffee Roasters with two beautiful locations the famous Coffee House in Brewster and the Espresso Bar in Chatham.  Situated in a modern barn with rustic wood beams and floors covered with Persian rugs, this Coffee shop feels like a friend's getaway cabin.  The charm of this historic space mixed with the hipness of their beautiful coffee roasters creates a wonderful and inviting space indoor and out. Attached to the coffee shop is the Great Cape Herbs Company where you can find homeopathic medicine, local honey, and fun locally made trinkets.  Watch beans being roasted while sipping a cappuccino complete with special latte art. Make sure to buy their beans available for sale so you can enjoy their coffee later when you get home. All coffee is ground and made to order. The store sits on 15 acres of farmland and abuts Route 6A and the Cape Cod Rail Trail in Brewster.
Monomoy Coffee Company on Main Street in Chatham is just a short walk from the Inn and a must-visit while in town.  This cozy shop offers delicious teas and coffee drinks, including a Choccochino which is hot chocolate with espresso and frozen Macchiato.  They also offer fruit smoothies for a great pick me up in the afternoon, and they also have an assortment of baked goods, bagels, and sandwiches so you can get your breakfast or lunch there as well.  Their seating is all outdoors, so you can soak up the wonderful sunshine while you get your caffeine buzz on.
Another great shop near the Inn is Chatham Perk in North Chatham.  They offer a selection of drip coffee flavors that include the unique choice of Chocolate Covered Cranberry.  They also have a full smoothie bar and berry bowls to go along with a very wide selection of sandwiches and paninis.  In their bakery, they have a rotating assortment of goodies, which sometimes include the biggest eclairs we've ever seen!
If you are very particular about the coffee that you drink, you should check out Three Fins Coffee Roasters in Dennis.  They roast a selection of beans and grind it fresh for every cup.  They have an incredible cold brew as well for those who prefer a cold drink.  You can purchase whole beans as well to take home and enjoy as you reminisce about your Cape Cod holiday.  They also sell some creative teas if coffee isn't quite up to your street, including a Chai Chili Tea for the adventurous.
However, you like to enjoy your coffee, there is absolutely a spot for you on Cape Cod.  We encourage you to support our fellow small businesses during your trip.  Let us point you in the right direction after you start your day here at The Old Harbor Inn! Book your stay at The Old Harbor Inn directly with us on our website or by calling us at 508-945-4434 for the best price guaranteed!