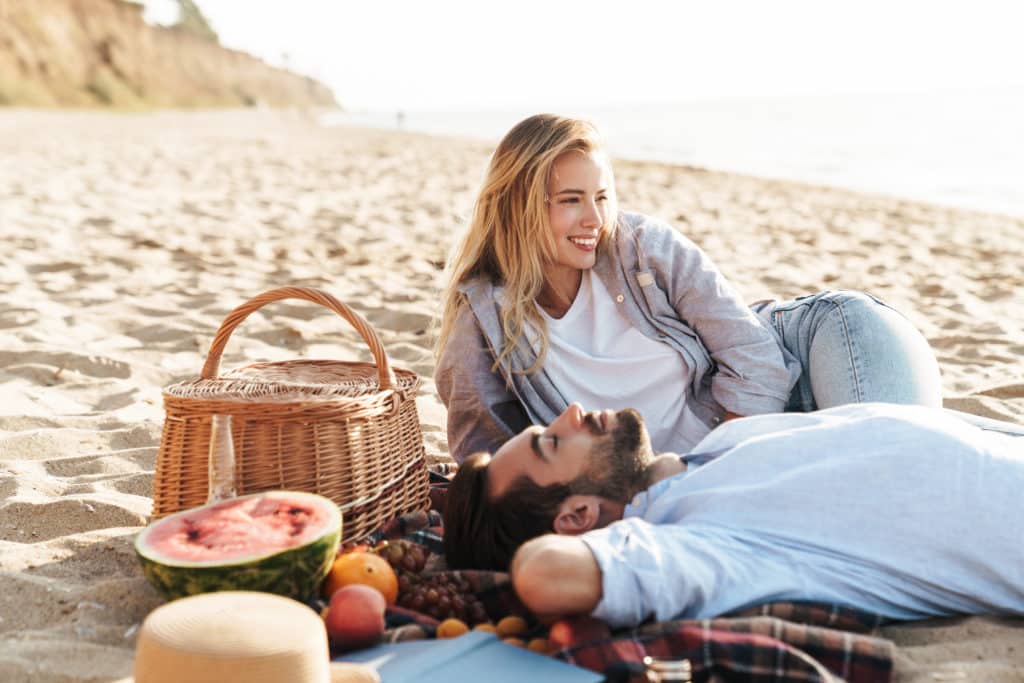 A great way to take full advantage of the summer sunshine on Cape Cod is to take a picnic down to your favorite beach. There are plenty of excellent beaches to choose from, and many different food vendors to satisfy whatever craving you are having that day. If you choose to have lunch in the sunshine, or dinner at sunset, the Cape provides you with plenty of options!
If you have made your way up to Provincetown for the day, there are lots of great food options. Stop at Truro Vineyards on your way north and pick up a bottle of your favorite wine, get some cheese and crackers from their adorable store, and set up a little picnic on their beautiful loan. You can also head to P-town's famous Commercial Street and pick up to-go lunch to bring to one of their many beaches. There are so many restaurants to choose from as you wander Commercial Street, so you are sure to find something that appeals to you. For an authentic lobster roll and clam chowder order from Lobster Pot. If you want to take some yummy sandwiches with you, grab a Lobster Club Sandwich, Cod Bahn Mi, or picnic-style fried chicken from Canteen. Take your goodies to Race Point Beach, where afterward you can take to one of the nearby trails to stretch your legs. Another option is Herring Cove Beach, where you can catch a great sunset if you hang around until the evening.
Eastham has two very popular beaches – Nauset Beach and Coast Guard Beach. In the summer, there is a shuttle that will take you from the parking lot to the beach. If you feel ambitious, you can park in the lot at the Salt Pond Visitors Center and take the walking path from there to Coast Guard Beach – it's about 1.5 miles. For lunch, you can pick up a fried native Chatham Fish and Chips from Arnold's Lobster and Clam Bar and bring it to the beach. Pick up one of their milkshakes to drink on your way to the beach – life is short, eat dessert first! The Knack in Orleans is also one of our favorites. They have a great assortment of burgers and sandwiches to choose from, with some seafood options as well. Their location is right on the water with great views of the Orleans Cove. They have a large loan where you can set up a picnic and watch boats and kayaks pass by. After lunch, you can also rent kayaks to enjoy Cape's famous cool ocean breeze.
Orleans' most popular beach Nauset Beach is also ideal for a picnic. The beach has lots of parking and is very long, so you can definitely walk around until you find the perfect spot to set up for lunch or dinner. If you go on a Saturday, the Orleans' Farmers Market is a great place to go to get some of the freshest food around. They open early at 8am, so you will have plenty of time to browse around the stalls to find exactly what you are looking for – and maybe even find some gifts to take home. On the way to the beach stop to Nauset Farms for freshly made sandwiches, prepared foods, and cold drinks. It's the best place to get your picnic supply! It's only five minutes away from the beach. Sunbird is another great place as well, with a varied menu to choose from. For a picnic at sunset, it's hard to do better than Skaket Beach. Bring your dinner out to the beach and watch the sun go down in a colorful display over the Cape Cod Bay. The nearest place to pick up take out is Rock Harbor Grill. Try their To-Go menu featuring wood-fired pizzas and lobster mac and cheese.
Sticking closer to home, Chatham has plenty of great beaches to relax and enjoy a picture-perfect picnic as well. For a quick place to grab lunch, the Chatham Village Market offers plenty of premade sandwiches and wraps that are made fresh, as well as salads. Across the street is the Chatham Cheese Company has a huge selection of different cheeses, as well as bread, crackers, wine, and different accompaniments, so you can put together a fun lunch with those options and take them to Lighthouse Beach or Oyster Pond. Mom and Pops is on the way to Harding's Beach, so swing in and try some of their tasty burgers and fries options on your way. Another great option to try is Corner Store they offer the best burritos in the area and they are so easy to bring to the beach!
There are so many more beaches and picnic spots to choose from. Cape Cod offers plenty of restaurants, clam shacks, and local markets to get your picnic supply, food, and drinks from. We are also offering picnic baskets with sandwiches, chips, drinks, and a dessert for a small fee! Let us get it ready for you and then take it to your favorite location and enjoy it. Please call us at 508-945-4434 to reserve and add it to your reservation. This is available to Inn guests only and requires a three-day prior notice. If you haven't done a picnic on the beach yet Cape Cod is the place to try in this summer season. Take a break from your high-stress life and treat yourself to a well-earned rest in the sun. Call us today and we will help you plan the perfect trip to Chatham!