Valentine's Day is fast approaching and stores around the globe are covered with red and pink cards, candy, flowers, stuffed animals, lingerie, and everything love inspired.  Give the love of your life something special this year! Everyone loves chocolate so why not visit the famous Chatham Candy Manor website and order some of their handcrafted Valentine's Day candy. This special day is to be shared between the two of you, so this is something you can enjoy together and remember your Cape Cod vacation.
Without a doubt, one of our favorite shops to visit during the month of February is the Chatham Candy Manor.  We love sending our guests to explore the delicious creations in the shop and love to provide their chocolates in our popular Romantic Package.  No matter what your sweet tooth is craving, they are sure to have the perfect treat for you!
When you enter the shop, you are at once overwhelmed by the delicious smell of freshly made fudge and melting chocolate.  To your right, you will see the fudge counter, with flavors ranging from Fantasy Chocolate to Fluffernutter to Cappuccino, which is one of our favorites!  They make the fudge in small batches, so it is always soft and fresh.
Off to the left, you will see a wall of nostalgic candies, jelly beans, gummy candies, and boxes of themed chocolates.  They have all of your childhood favorites – Pixi Sticks, Chuckles, Pop Rocks, Tootsie Pops, Sugar Daddies… the list goes on.  Their selection of gummy candies includes many local sea creatures including our most popular visitor – sharks!  There are also gummy lobsters, Swedish Fish, Chocolate Covered Gummy Bears, and Gummy Star Fish.  Prefer your sea life chocolate flavored?  They can do that too, with lots of fun-shaped chocolate friends for you to take home…or at least make it out of the door!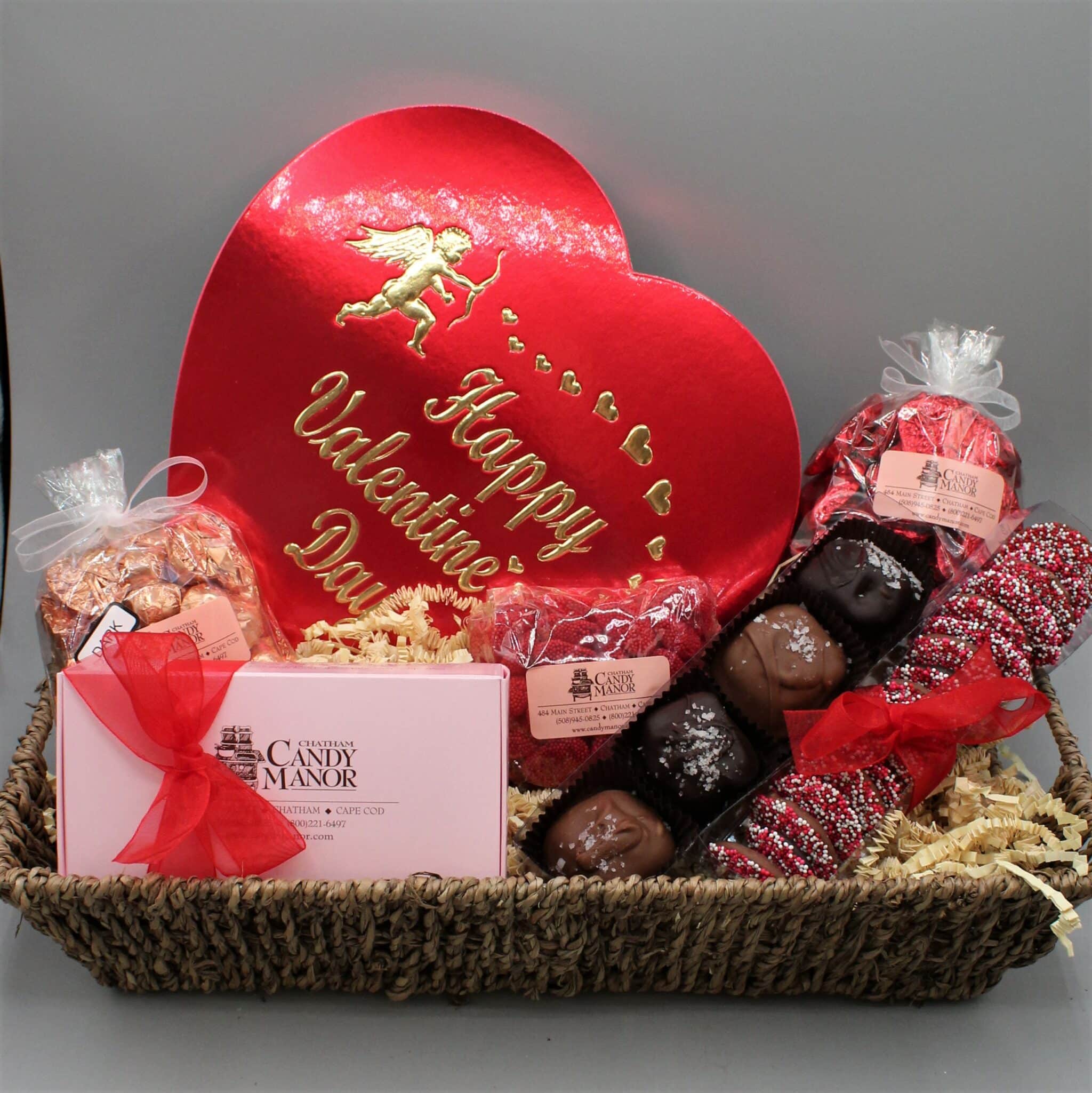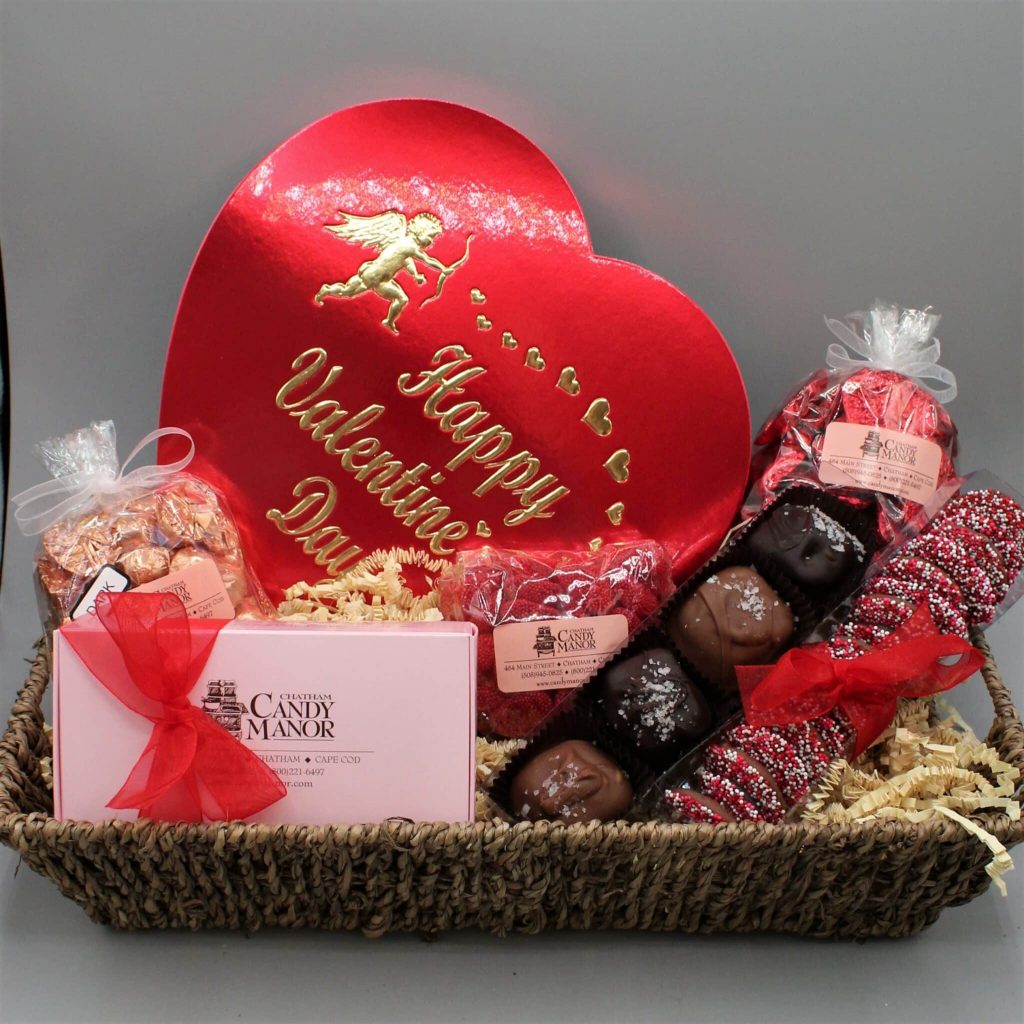 Of course, the Candy Manor would not be complete without handmade chocolates.  They have a huge variety of sugar-free and regular chocolates.  They have chocolate-covered marzipan, fruits, Oreos, pretzels, turtles, and barks that you can select in either milk or dark chocolate (the Oreos are a particular favorite).  Then there are the truffles – Bailey's, Raspberry, Sea Salt Caramel, and Kahlua just to name a few.  In their chocolate case, you can pick your favorite cream filled chocolates – raspberry, orange, butter, maple, coffee…  There are also dipped peppermints, sea salt caramels, nonpareils, peanut butter treats, and our #1 choice – Snowballs (marshmallow and caramel dipped in dark chocolate, then dipped in white chocolate and rolled in coconut). And of course, they go all out for Valentine's Day! Check out the Valentine's Day collection! 
If you are worried that you won't have room in your suitcase for all of the delicious treats you want to take home with you – never fear!  They will happily ship your selections home to you in temperature-controlled packaging, making it easy to get your fix even after your vacation is over. Be sure to support this incredible local business on your next visit to the Old Harbor Inn!  And if you can't wait to try any one of their delicious creations, you can order online.  Stock up on your favorites or try something new this Valentine's Day! With your box of chocolates include one of our Old Harbor Inn Gift Certificates wrap with your favorite red bow and make this Valentine's day really special for that special person in your life! We hope to see you soon!