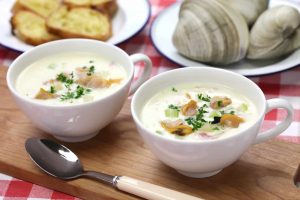 Fall is slowly starting to roll in on Cape Cod and cooler weather is upon us. Besides the beautiful colors, fresh ocean air, and stunning views that you can enjoy at this time of the year you can also indulge in delicious seafood. A trip to Cape Cod is not complete without sampling its staple dish, the famous Clam Chowder! There is nothing better than a bowl of warm clam chowder on a cool, Cape Cod day! Did you know that some of the best cups of clam chowder in the world are eaten on Cape Cod? Wherever you go on the Cape, you can be quite sure that a delicious cup is not far away. Guests always ask us where they can find the best place to get clam chowder on Cape Cod. There are countless places to get amazing clam chowder, but here is a shortlist of our favorite go-to spots.
Captain Parker's Pub, West Yarmouth
Captain Parker's overlooks Parker's River in Yarmouth and has been serving their award-winning chowder for over 30 years! They are most famous for their multi-award-winning, thick and creamy, New England Clam Chowder served in a cup, bowl, mug, or bread bowl; you choose! Their chowder has appeared on numerous programs on the Food Network, Rachael Ray, and even on Jeopardy! Nobody does clam chowder like Captains Parker's, it's a must-visit restaurant if you would like to try the best chowder around, They have been perfecting their recipe for years! They ship anywhere and you can now find their famous New England-style clam chowder in local stores.
The Skipper Restaurant & Chowder House, Yarmouth
The Skipper restaurant is one of CapeCod's oldest waterfront restaurants with a pristine view of Nantucket Sound. Since its opening in 1936, this restaurant is locals and visitors go-to place for a great bowl of clam chowder as their menu calls it "The Triple Crown Award Winner". It's not necessary to fully understand what this means in order to know that it sounds delicious. On top of this, you can enjoy amazing fried seafood, lobster rolls, and a catch of the day that is as fresh as you will find anywhere. On top of the amazing food, you are sure to enjoy the pleasant views of the Atlantic Ocen from the dining room or patio. For a true sense of Old Cape Cod don't skip the Skipper on your next visit to Cape Cod.
A trip to P-town is not complete without visiting the famous Lobster Pot and ordering a steaming bowl of chef Tim McNulty's clam chowder while watching the boats come and go from the harbor. Tim's clam chowder has earned him considerable fame in New England as the winner of the Boston Chowder Festival several years in a row. If you feel ambitious enough to make this amazing soup at home, make sure to purchase the restaurant's cookbook!
It does't get more classic than a cup of Kream N' Kone clam chowder. Their traditional recipe is filled with tender Cape Cod clams, salt pork, and potatoes simple and delicious. This family-owned establishment also has heaventlyfried clams, juicy burgers, thick milkshakes, and a great cold lobster roll made with knuckle meat.
Mac's clam chowder is a bit different. It's not as thick but runnier. Their chowder is thickened with clams, not with flour. Being purists about it, they don't add pork, either. Leeks, thyme, and bay leaf round out the pure, rich flavours of this New England classic. We think the Mac's version is outstanding: meduim thick, filled with lot's of clams, thinly sliced potatoes, topped off with delectable spices. This place is a must visit while in Chatham!
After enjoying one of these delicious Cape Cod clam chowders, come home to a cozy room where you can relax and digest! Our beatiful Cape Cod Inn is one of the top places to stay on Cape Cod and it's within walking distance of all the best attractions in Chatham, including some of these amzing restaurants. Our B&B offers luxury rooms, impecable service, and the New England experiance you seek when coming to Cape Cod. Book your stay at The Old Harbor Inn today!