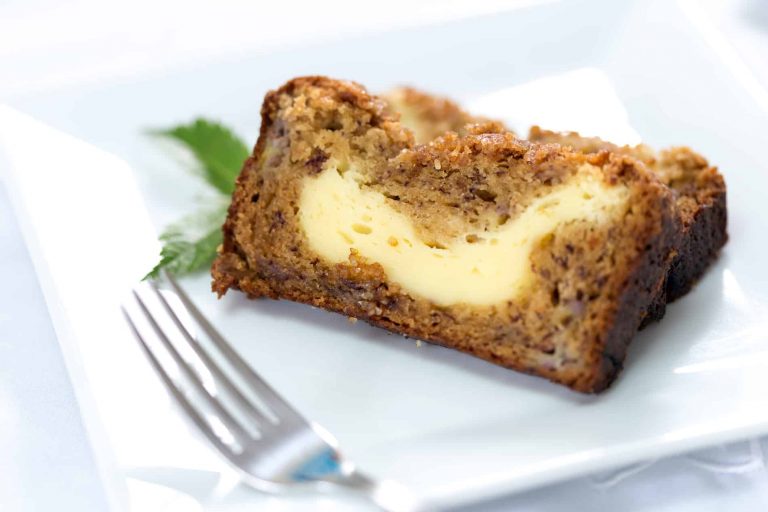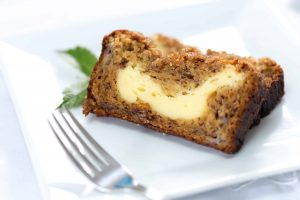 Banana bread has become one of the most popular recipes searched on Google as home bakers whipped up loaves during the lockdowns. Did you know that "The Best Banana Bread" tops a list of Google's most-searched recipes? Thousands of banana bread recipes were posted online in a matter of weeks as well as pictures going viral on social media. So, it's time for us to also share our most loved banana bread recipe. Our recipe makes the most moist and delicious banana bread! We've served it at the bed and breakfast for years to glowing guest reviews – and it's so easy to make. You don't even need a mixer! Just get some ripe bananas and put your Old Harbor Inn apron on!
We've tried many banana bread recipes and this one is our very favorite. Guests have fallen in love too! What makes this one so good? This banana bread has a cream cheese filling in the middle that tastes like cheesecake was baked inside. This is the best homemade banana bread recipe you will ever make! Try it for yourself!
Cream Cheese-Filled Banana Bread
Bread
1 large egg
1/2 cup light brown sugar
1/4 cup granulated sugar
1/4 cup canola oil
1/4 cup sour cream
1 teaspoon vanilla extract
1 cup mashed ripe bananas (about 2 bananas)
1 cup all-purpose flour
1/2 teaspoon baking powder
1/2 teaspoon baking soda
Cream Cheese Filling
1 large egg
4 ounces softened brick-style cream cheese
1/4 cup granulated sugar
3 tablespoons all-purpose flour
Topping
Turbinado Sugar
Cinnamon (optional)
INSTRUCTIONS
Preheat oven to 350F. Spray one 9×5-inch loaf pan and set aside. In a large bowl, add the egg, sugars, canola oil, sour cream, vanilla, and whisk to combine. Add the mashed bananas and stir to incorporate. Add 1 cup flour, baking powder, baking soda, optional salt, and fold with spatula or stir gently with a spoon until just combined, set aside. Turn about half of the batter out into the prepared pan. Meanwhile, in a large bowl, add all cream cheese filling ingredients and whisk to combine. Evenly pour filling mixture over the bread, smoothing the top lightly with a spatula. Top with remaining batter, smoothing the top very lightly with a spatula. Top with the cinnamon sugar topping and bake for 1 hour. This bread freezes beautifully!
With fall weather and cooler days ahead of us, we will be spending more time indoors and of course baking more! There is nothing better than the smell of home-baked cake warming the house on a chilly day! Enjoy this wonderful banana bread and do not forget that this and many other of our recipes are in our cookbook! The Old Harbor Cookbook is available to purchase on our Facebook page as well as by calling us directly at 508-945-4434! Happy Baking!