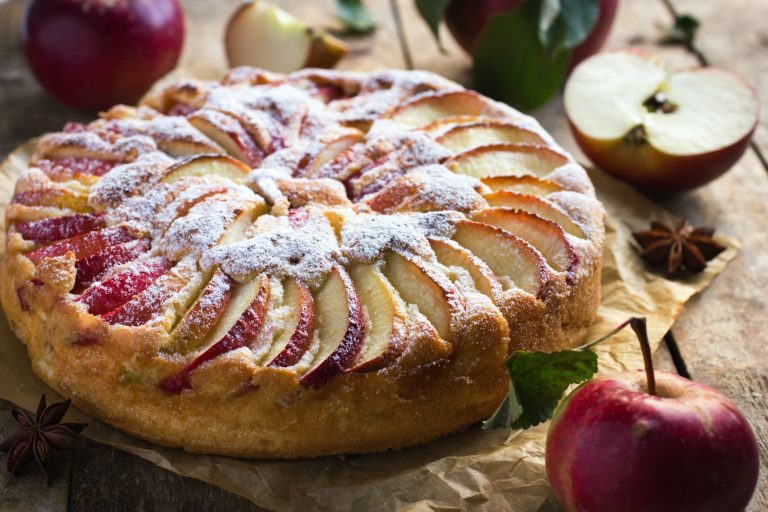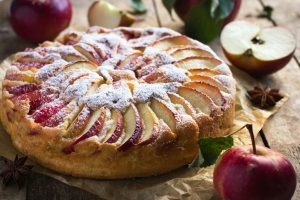 Now that apples are in season, it's the perfect time to make this easy apple cake. It's the most delicious apple cake you will ever make! The perfect fall treat for breakfast or late afternoon snack!
This simple apple cake is light and fluffy, loaded with fresh apples, and topped with a crunchy cinnamon-sugar layer! The key to a great apple cake is to use a diverse variety of apples for a mix of textures and flavors: sweet, tart, crisp, and soft. For the best tasting homemade apple cake, try mixing Honeycrisp and Granny Smith if you prefer your cake more tart, or for a sweeter experience, go with Gala or Fuji. This easy recipe can be made in minutes and will make your house smell like a Yankee Candle!
The Easiest Homemade Apple Cake
Ingredients:
1/2 cup butter
1/2 cup sugar
2 eggs
1/2 tsp almond extract
Cream the butter and sugar. Add the eggs and extract.
In a separate bowl, mix:
1 cup flour
1 tsp baking powder
1/2 tsp salt
Cinnamon Sugar Topping
1/3 cup sugar
1 tsp. cinnamon
Mix the dry and the wet together. Pour the cake batter into a pie plate. Cut the apples into thin slices and arrange them on top of the cake batter. A variety of colors of apple make for a pretty cake. Sprinkle cinnamon and sugar mix on top of the apples. Bake at 375 degrees for 30-35 minutes. Enjoy!