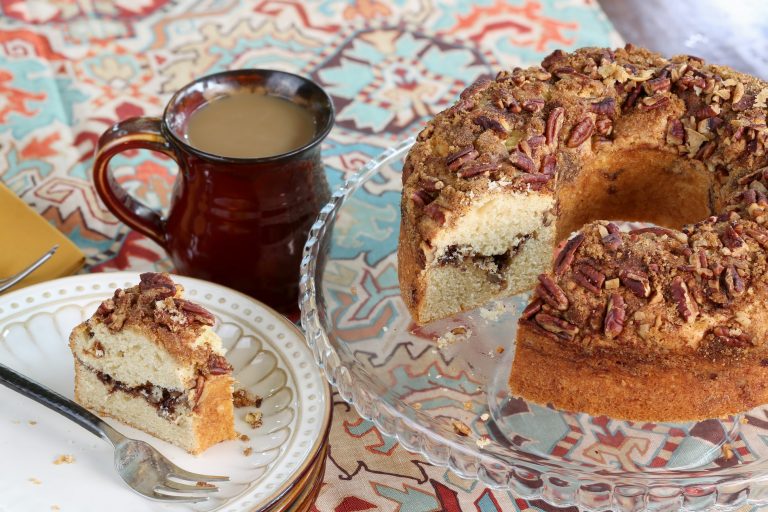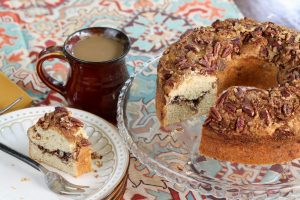 Start your Christmas morning on a sweet note with this moist and light coffee cake. In our Christmas-Morning Coffee Cake, a crunchy, streusel topping sits atop a soft, buttery cake. Enjoy this make-ahead cake with a cup of coffee while you're opening presents.
Ingredients:
Cake
2 cups all-purpose flour
1 tbsp. baking powder
½ tsp. salt
2 cups granulated sugar
1 cup unsalted butter, softened
1 tsp. finely grated lemon peel
2 teaspoons vanilla extract
1 tsp. pure lemon extract
2 large eggs
1 cup sour cream
Topping
1 cup chopped walnuts/pecans
2 tbsp. all-purpose flour
4 tbsp. light brown sugar
1 1/2 teaspoon ground cinnamon
1 tbsp. unsalted butter, melted
Preheat oven to 350°F. Grease a 10-inch tube pan with baking spray.
Prepare the Cake: Whisk together flour, salt, and baking powder in a bowl. Beat together sugar and butter on medium-high speed with a stand mixer fitted with the paddle attachment until light and fluffy. With the mixer on low speed, add vanilla, lemon extract, lemon peel, and eggs 1 at a time, beating well after each addition. Add flour mixture and sour cream alternately to butter mixture, beginning and ending with flour mixture. Pour ½ of the batter into the prepared tube pan.
Prepare the Topping: Stir together walnuts, flour, brown sugar, cinnamon, and melted butter until combined. Sprinkle half over batter. Spread the remaining batter on top and sprinkle the rest of the topping over top. Bake in preheated oven until a wooden pick inserted in center comes out clean, 55 to 60 minutes.
This and many other holiday recipes can be found in our best-selling cookbook available for purchase on our Facebook Page! Happy Baking! Enjoy!