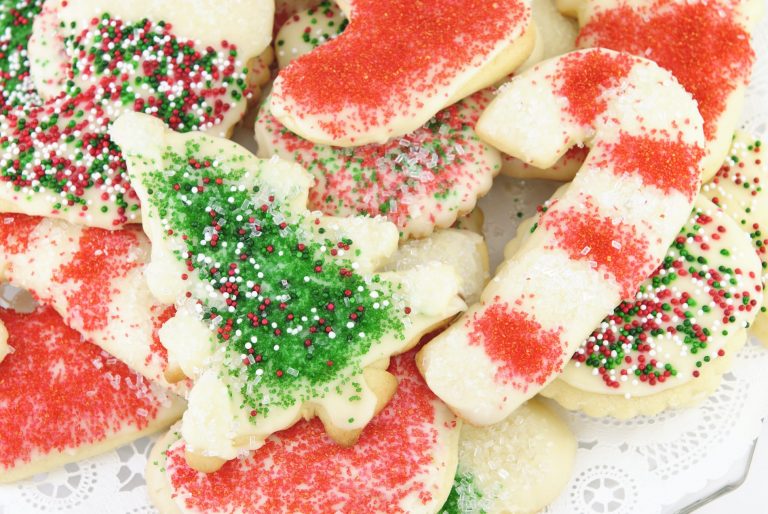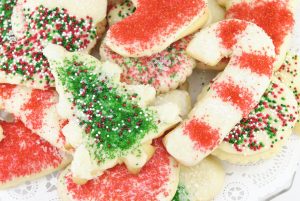 This is the best Cut Out Sugar Cookie Recipe you will ever need! They are soft, chewy, hold their shape perfectly, and are so easy to make!
Making cut-out sugar cookies has been a holiday baking tradition for over 25 years at the Inn! As far back as we can remember, every December we'd start baking Christmas cookies for our guests. During the years we have tested dozens of sugar cookie recipes without landing on the perfect one…until a few years back. We tweaked a recipe from an old cookbook we found in the Inn's attic and created this PERFECT sugar cookie!
Whipping up bakery-perfect sugar cookies only requires two basic ingredients: a little love and a little baking know-how.
1. Use real butter
Julia Child famously quipped, "Life is too short for fake butter or fake people." Amen! Butter is the ideal fat for cookies because it adds the best flavor. When creaming butter with sugar, it should be softened first to room temperature!
2. Do not overmix
Overmixing or handling the batter too much results in the gluten in the flour forming elastic gluten strands. You'll end up with dense, tough cookies.
3. Rolling the dough
Rolling the dough to ¼-inch thick makes it's easy to work with (less breakage) and achieves a soft, tender cookie. Roll out from the center to the edge, keeping a uniform thickness and checking the thickness with a ruler.
4. Oven temperature
Check your oven temperature. Get a cheap thermometer to be sure your oven is "really" 350 degrees F. Not all ovens heat to the temperature they display. Know your oven. If it's baking lower than it's set to it could cause the cookies to spread.
5. Use fresh ingredients
If your eggs or baking powder are not fresh the cookies could spread. Be sure to use fresh if possible local ingredients.
Ingredients:
Cookies:
1 cup granulated sugar
1 cup butter, softened (2 sticks)
1 egg
2 tsp. vanilla extract
1/2 tsp. almond extract
3 1/4 cups all-purpose flour
1 tsp. baking powder
1/2 tsp. salt
Frosting:
4 cups powdered sugar sifted
6 tbs. milk at room tempreture
1/2 tsp. vanilla extract
Directions:
Preheat oven to 350 degrees. In a large bowl, beat butter and sugar with an electric mixer until light and fluffy. Beat in egg and extracts. Mix flour, baking powder, and salt; add to butter mixture 1 cup at a time, mixing after each addition. Do not chill the dough! Divide dough into 2 balls. On a floured surface roll each ball into a circle approximately 12 inches in diameter and 1/4 inch tick. Dip cookie cutter in flour before each use. Bake cookies on an ungreased cookie sheet for 8-11 minutes until cookies are lightly browned.
Freeze baked, undecorated cookies!
If you're baking lots of sugar cookies for the holidays or for a cookie decorating party, you can freeze the baked cookies before decorating! Store them in airtight, freezer-friendly containers. If you're stacking the cookies, separate the layers with parchment or wax paper.
This and all of The Old Harbor Inn's recipes can be found in our cookbook available for sale on our Facebook page!
Enjoy and Happy Holidays!