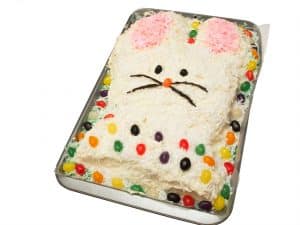 Have you ever made a cut-up cake? What family wouldn't like this delightful Easter cake? This cut-up cake is a great activity for kids and it's surprisingly easy to make. The idea is simple – start with two 9-inch round cakes, and then cut them up, reassemble them, and create the bunny. Decorate with frosting, candy, and coconut.
Ingredients
Cake
1 pkg vanilla cake mix
1 pkg vanilla pudding
4 eggs
⅓ cup butter melted
1 cup milk
Frosting
1cup Crisco
1cupbutter
2tsp vanilla
8cups powdered sugar
3Tbsp milk
Food coloring
Candy coconut and candy
Directions:
Mix together all ingredients for the cake. You can use your favorite cake mix or bake from scratch using our vanilla cake recipe in The Old Harbor Inn Cookbook. Split in half and place 1/2 in each of two greased and floured 9-inch round cake pans.
Bake at 350° for 30 minutes. Remove from oven and allow to cool.
Remove cakes from pans. Leave one cake intact, and cut the other by using this paper template.
Arrange bunny on a tray – use one of the cakes for its head and the other for his bow and two ears. Top generously with the vanilla frosting.
Sprinkle lavishly with Coconut flakes. Tint a small amount of coconut pink for his ears by adding a few drops of red coloring diluted in water.
Decorate with gum drops or jelly beans for his eyes, nose, and polka dots on the tie.
Use licorice for mouth and whiskers.
Enjoy and Happy Easter!