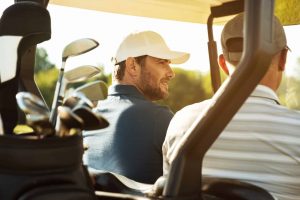 Are you looking for the perfect gift for dad? There are a ton of creative and fun things to do together. Perhaps, it's time for a road trip to Cape Cod! Get into the car, crank up the tunes and take the scenic route. A trip to the beach will definitely create lasting memories. Here are the best Father's Day activities to help you create new experiences together.
Cars
Talking about cars, looking at cars, driving cars – all things that men love. Treat dad to a visit to the Heritage Museum and Gardens Auto Show to see antique and classic automobiles, hot rods, custom cars, and motorcycles. Another fun place to go on Father's Day is the Annual Hyannis Main Street Father's Day Car Show. This is the only day of the year that Main Street is closed to normal car traffic and open to the public to take in the sights (lots of cool vintage cars). Let him explore Cape Cod's natural beauty for the day from behind the wheel of a rented Jeep Wrangler from Cape Cod Jeep Rentals! Cruising the Cape with the top down and music blaring is enough to make anyone smile.
Take Dad out to the Ball Game
Games start June 12th! Established in 1885, the collegiate summer Cape Cod Baseball League is known as the place "where the stars of tomorrow shine tonight!" In fact, one in every six Major League Baseball players has played in the Cape Cod Baseball League. Dad will love catching an action-packed game featuring players from across the U.S. representing all NCAA college divisions. The Chatham A's play at Veterans Field just a short 5-minute walk from the Inn. All home games start at 7 p.m. and are FREE. If you want to grab a bite to eat prior to the game, go to Red Nun located just outside the field.
Beer
What dad doesn't like beer? We've got some incredible breweries right here on Cape Cod! Seasonal summer hefeweizens, rich porters, or punchy IPAs, Cape Cod Beer has a taste for every palate. At Devil's Purse Brewing, you'll find fresh, hand-crafted beer in such refreshing flavors as Blueberry Summer Ale. Enjoy brews by the glass or a flight paddle with pizzas on the outdoor patio at Bad Martha Farmer's Brewery in Falmouth. Hog Island in Orleans always has live music and fun events along with their delicious beer. You can also hop on the Cape Cod Brew Bus to see three of the best Cape Cod breweries. This awesome tour is hands down the most exciting (and safest) way to share a day with dad sampling one-of-a-kind pints in comfort and style. You can also take dad to a private craft beer tour (or wine or distillery) with TapTastings. They specialize in private guided tours that will bring you to the Cape's best breweries and vineyards for tastings.
Golf with a view
A round of golf is always a guaranteed Dad-pleaser. Whether he is seeking a laid-back experience or hoping to sneak in a quick nine before heading to the beach, Cape Cod is home to more than two dozen public golf courses in a variety of captivating layouts. You will treasure every minute of your day spent golfing with dad at one of the Cape's scenic golf courses. Just minutes from the Inn, downtown Chatham and Chatham Light beach, and adjacent to the exquisite Chatham Bars Inn – is Chatham Seaside Links golf course, established in 1895. A favorite golf experience for locals and tourists alike, Chatham Seaside Links has rental golf clubs conveniently available for visitors. This amazing course is perched high up overlooking the Atlantic Ocean. After the game stroll down to the Chatham Fish Pier for some Fish & Chips and watch the boats unload the daily catch.
Food
We all know the old saying that the way to a man's heart is through his stomach. Test out the theory! Dine on traditional Cape Cod cuisine at the oldest restaurant in town Impudent Oyster, grab fried clams at Mac's, or sushi at Blue Fins. You can also enjoy a casual dinner with killer views at Sesuit Harbor Café in Dennis and the Beachcomber in Wellfleet. Any foodie father will love sharing a meal with his team at one of our 'must try' Cape Cod restaurants. Tables fill up fast, so be sure to make reservations in advance.
Last, but not least, perhaps dad would most enjoy a weekend away. Bring dad to the Cape for the best experience of all. We're here to help you make it happen. Consider giving dad a getaway he'll always remember with a stay at The Old Harbor Inn. The Inn is centrally located in downtown Chatham within walking distance to all the local attractions. Call us today or book online!
Credit: Cape Cod Chamber of Commerce