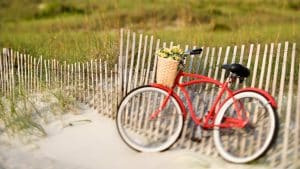 Guests of our luxury Chatham Inn have a multitude of ways to enjoy the beauty of Cape Cod's landscape. Hiking, beach combing, boating, and bicycling are all great ways to get closer to the Cape's natural beauty. The Old Harbor Inn is centrally located near several popular Cape Cod bike trails for travelers who want to get to know the area on two wheels.  Whether you decide to bring your bike or rent one, be sure to hit these Cape Cod bike trails during your visit.
Cape Cod Rail Trail (25-mile off-road paved path)
Cyclists can follow the route of the old Cape Cod Railroad through six Cape towns. The name of the trail stems from the old railroad right of way it follows, which used to transport passengers and freight to Cape Cod in the early 1800s until around 1960. The trail runs from Yarmouth into Dennis, then winds through Harwich, Chatham, and Brewster (with a detour through Nickerson State Park), Orleans (through the beautiful Rock Harbor area), and along the Cape Cod National Seashore Center in Eastham, and then to Le Count Hollow in Wellfleet. You will pass by beautiful nature landmarks filled with nature scenes, calming birds chirping, and the unforgettable feeling of that Cape Cod breeze as you ride by places such as ponds, marshes, quaint villages, cranberry bogs, and many places to have a delicious lunch, yummy ice cream or coffee! Bicycle rentals are also available at various bike shops conveniently located right along the trail.
The Chatham Loop (5 miles)
The Chatham Loop is a five-mile "loop" that includes Stage Harbor Road, Bridge Street, Shore Road, and Main Street. This bike ride offers several things to see, including numerous stunning ocean views, Chatham's famous lighthouse and Coast Guard Station, Chatham Fish Pier, and Atwood House Museum. If you want to take a break from biking, you can go walk along Chatham's renowned Main Street which offers many boutique shops and seafood restaurants. Another great spot on the bike trail is the Chatham Municipal Airport, where you will find the famous Hanger B restaurant. This is a favorite local stop for breakfast, lunch, and coffee.
The Nauset National Seashore Marsh Trail (1.6 miles)
This is one of the most beautiful and picturesque bike rides on Cape Cod. It begins at the Salt Pond Visitors Center in Eastham, and runs to Coast Guard Beach, intersecting with the Cape Cod Rail Trail. The trail provides a panoramic vista of the Atlantic Ocean. A 3-mile roundtrip, gentle path takes you to the amazing shore, passing through the relaxing woods, by the historical Doane Memorial, where you will find a cozy picnic area.  Then, breeze by Nauset Marsh, which is a sight to behold! Finish it off by cruising to the award-winning Coast Guard Beach at the end, what a reward! Make sure you spend some time at the beach! The beach itself is a sprawling and beautiful site, with waves lapping the shore as far as the eye can see in either direction. Also, scope out the shoreline for surfers who commonly share the water with curious harbor seals. The Little Capistrano Bike Shops is located right on the bike trail.​ If you want a short, beautiful ride, this is the trail for you!
Province Lands Trail (7¼ miles)
This is a challenging paved loop through the majestic dunes leading to Herring Cove and Race Point Beaches in Provincetown. This hilly loop starts from the Province Lands Visitor Center in Provincetown. The route is 7-¼ miles long. But with the trail extensions to Herring Cove Beach, Race Point Beach, and Bennet Pond, two more miles can be added to your distance. Riding the trail is a great way to tour the vast dune system in the Province Lands area, as well as its shady Beech Forest, one of the few places within the tract with extensive tree cover. There are several entry areas. This trail is certain to become a favorite for bicyclists, although the route can turn difficult due to the undulating hilly terrain it follows. The paved network traverses much of Province Lands' 4,000 wild acres, winding through and over the dunes of Provincetown and other local sand formations. In your travels, you'll explore cranberry bogs, marshes, and skirt several saltwater kettle ponds, as well. From breathtaking marshland to magnificent exposed dunes to expansive shore views, these trails feature much spectacular scenery. An added convenience is that they also offer direct access to both Race Point and Herring Cove beaches.
After a day exploring these Cape Cod bike trails, a local Inn is an ideal place to rest and recharge. The Old Harbor Inn's well-appointed accommodations and classic New England charm are unparalleled. Our lodgings are halfway between Yarmouth and Wellfleet and less than 1 mile from the path. We have twelve guest rooms, all of which feature luxurious amenities, and a bike rack to park your bicycle, in case you bring your own to the Cape. On top of that, there are a few wonderful bike shops (Chatham Hood Bikes and Wheelhouse Bike) within walking distance from the Inn.