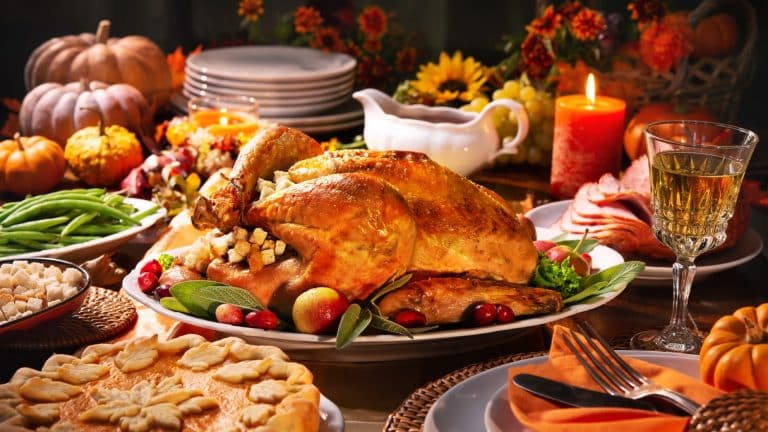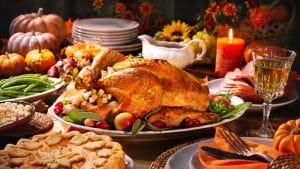 Forget about the long grocery lists and errands proceeding the holiday. Why not let somebody else do all the shopping, cooking, and cleaning? Many local restaurants will be open this Thanksgiving offering a variety of options for your festive dinner feast. Choose from elegant oceanfront restaurants to more cozy budget-friendly options. No stress, no clean-up – only relaxation! After your pumpkin pie, there is nothing better than walking off your food at a local beach and enjoying the peace and quiet Cape Cod offers at this time of the year.
Here are some of the best Thanksgiving dining options near the Inn that offer buffet-style dinners, a la carte and Prix fix three-course menu options. Be aware most restaurants require reservations and may fill up quickly. Call and book in advance!
If you would like to be able to walk to a restaurant on Thanksgiving you can choose between Wild Goose Tavern, Pates, and Stars all in Chatham.  Wild Goose Tavern right on Chatham's Main Street offers a traditional Thanksgiving Buffet priced at $100.00/pp from 12:00 p.m. – 5:00 p.m. Pates is local's favorite and will be serving festive Thanksgiving dinner from 1:30 p.m. – 8:00 p.m. Stars located on Chatham's famous Shore Road offers a lavish Thanksgiving Buffet priced at $180/pp from 11:30 p.m. to 5:00 p.m., featuring seafood displays, caviar, smoked fish display, an Asian station, roasted turkey, prime rib, and dessert station. This elegant oceanfront dining is for those of you who want to dress up and enjoy true Cape Cod luxury. The steep price is well worth the amazing views of the ocean and the gourmet dinner offerings.
Another waterfront high-end option within a short drive is the 28 Atlantic in Harwich. A grand buffet, impeccable service, and an amazing view of Cape Cod Bay will make for a memorable Thanksgiving. Dinner will be served from 12:00-6:00 p.m. priced at $195.00/pp. Don't miss another oceanfront option, the Pelham House Resort in Dennis Port. The resort's Thanksgiving meal will feature appetizers and a raw bar served atop a protected rooftop with views of Nantucket Sound, and fire pits next to the beach. Seaside dining choices will include a multi-course buffet that features heritage roast turkey and roasted beef sirloin, accompanied by assorted hot side dishes and cold platters.  Seatings are from 11:30 a.m. to 5:30 p.m., and the cost is $130/pp.
For more budget-friendly options for Thanksgiving dinner try the Yarmouth House and Chillingsworth.  The decorative water wheel in the window welcomes you to this family-owned landmark, the Yarmouth House, in business for more than 40 years. Seatings for Thanksgiving will be from 11:30 a.m. to 7:30 p.m., offering a three-course holiday meal, with a variety of main course entrees available, from roast turkey, prime rib, and other meat choices to Chicken Atlantis, a restaurant favorite. The cost is based on your dinner choice between $29-$45.  Another charming restaurant offering fine dining for less is Chillingsworth in Brewster. This 17th-century sea captain's home has antiques to add to the historic atmosphere. Choose from a traditional turkey dinner or a La Carte Menu with three seatings for dinner at 1:30 p.m., 2:30 p.m., and 5:30 p.m. Regular menu prices are in effect, as well as Prix Fixe menu. The holiday menu offers a multi-course meal that includes appetizers, soup, salad, and entrée, with a tray of dessert selections. Included are traditional Thanksgiving choices as well as many items from the restaurant's regular dinner menu.
If you are looking for a more casual option Hearth and Kettle in Hyannis will be offering a buffet-style dinner with traditional turkey dinner, prime rib, ham, and many local seafood options from noon until 5:00 p.m. starting at $29.99/pp. In its JFK Ballroom, the Cape Codder will host its annual Thanksgiving Day buffet (11:30 a.m. to 5 p.m.), with main fare choices ranging from fish to turkey and ham, plus holiday side dishes. Warm appetizers will include corn chowder and apple bisque, and there will be a special dessert table.
As you can see there are many dining options for a perfect Thanksgiving on Cape Cod. There is nothing more relaxing than a trip to Cape Cod in the off-season months. Make The Old Harbor Inn your home away from home this holiday season. Reserve your stay with us today and make this holiday season one you will remember!