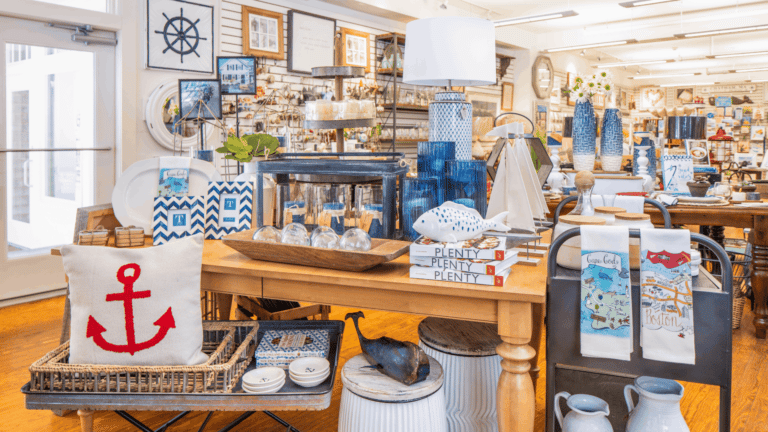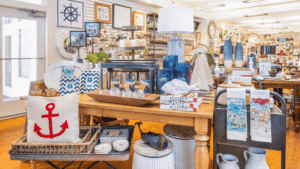 The holiday shopping season has kicked off and along with that finding the perfect gifts for the people we love. Cape Cod is full of small local businesses that offer locally crafted and unique gifts for everyone! Here are some of the special stores we visit and support year around. There is something for everyone on your list!
For the Foodie
This local store offers specialty oils and vinegar. Their gift packages of popular pairings and the 6-pack sampler are the perfect gifts for the foodies in your life.
This local business produces gourmet sea salts with no processing and no additives, just delicious salt. The salt is derived from the shores of Cape Cod, evaporated, and harvested in Chatham. The unique flavor of the sea crystals echoes the briny tang of a summer's day at the beach. Our favorite flavors are Garlic and Herb Sea Salt.
It's a wholesale company and retail shop that offers the highest quality culinary herbs, spices, extracts, teas, nuts, seeds, botanicals, and essential oils. Browse their extensive online catalog to find the perfect gifts for the foodies in your life! We love their vanilla bean paste, cinnamon, and nutmeg! Always fresh and a great addition to anyone's holiday baking!
When in doubt, give chocolate. Candy Manor offers the best Christmas chocolate assortments, handmade candy canes, peppermint bark, and fudge. Oh, the aroma of freshly made chocolate is irresistible. They ship nationwide.
For the Women
They offer a diverse and unique selection of clothing and accessories for women of all ages and all styles! We love their best-selling fleece-lined leggings priced at only $15.00. They are high-waisted, cozy, warm, and come in tons of colors! The best thing, one size fits all! They make for the perfect gift! You can get 10% off on everything on their website this holiday season and free shipping on orders over $50.00. Also, check out their Facebook page for virtual live holiday shopping presentations! They will be showcasing some of their favorite new picks for gift-giving, as well as highlighting their best sellers! Grab a drink and join them from the comfort of your own home while you shop local!
Mahi Gold is known for its nautically inspired signature prints and impeccable fit. Their clothing is all made in the USA and has amazing quality. Their products wash & wear magnificently, pack easily, and are the perfect complement to anyone's vacation wardrobe.
This unique boutique was born 20 years ago when Taylor Brown started making headbands to keep the hair out of her face while she shellfished. Based on Cape Cod, she still makes the same headbands but the Fisherman's Daughter Collection has grown to include clothing and other accessories. One will fall in love with her oh-so-soft certified organic fingerless shucking gloves, seaweed wrap scarves, and super soft organic clothing. Taylor Brown grew up on Cape Cod as the daughter of a Commercial Fisherman which nurtured her love of the ocean and concern for its protection.
For the Men
This Cape Cod staple clothing store offers high-quality and trendy men's apparel and accessories. Shop local brands such as Vineyard Vines, Chatham Chino, & the Cape Cod Collection. Make sure you visit their Cape Cod Collection for men. It's all about comfort this holiday season and they do offer premium cotton and cashmere clothing that will feel good and look great on anyone. Choose from cozy Vineyard Vines pajamas, lobster socks, or a shark tie!
A unique store that offers all of your Chatham essentials – sweatshirts, hats, belts, and accessories. We love their shark needlepoint belt, nautical needlepoint wallets, and needlepoint keyrings.
For the Coffee Lover
Offers handmade and hand-painted stoneware inspired by the one-of-a-kind beauty of Cape Cod. Their nautical mugs with the Chatham Lighthouse are a must!
What better way than an OHI coffee mug to remind yourself or a loved one of your recent trips to Chatham! Sip your coffee or hot cocoa from our one-of-a-kind mugs and start planning your next trip to Chatham! We are offering 10% off all items in our gift shop until the end of December!
You can shop these amazing coffee beans roasted right here on Cape Cod! They offer 10-ounce, 2-lb., and 5-lb. bag sizes and you can choose your grind preferences.
Comfort & Cozy
This unique shop offers a great variety of home decor big and small. Beautiful designs and use of coastal color palettes. Plenty of cozy blankets, pillows, candles, and all items for the home that remind you of Cape Cod.
Specializes in the Life is Good brand, but also aims to carry items that are charitable, local, or USA-made. Check out their holiday shop for cozy Christmas PJs, socks, and funny t-shirts.
There is nothing like a small, locally owned bookstore to make life magical. A truly special and fun bookstore that has an excellent selection of books for all ages.
One of a Kind Finds
We cannot think of a more unique, fun, and creative place than Yankee to shop. You will find the most amazing gifts here! We love everything in the store!
Features local artist work and unique present ideas, we love the three-foot handcrafted whales.
The Artful Hand Gallery is known as a destination for imaginative gifts, designer jewelry, home decor and works by local artists since its founding in 1981.
This local shop carefully selects its vendors in order to provide top-quality, unique, and trendy products you will not find anywhere else. If you are shopping for someone special or pampering yourself, you are sure to find just what you are looking for!
Think of the places that you visited this summer that bring you memories of your Cape Cod vacation! Maybe it's a quaint bookstore, an art gallery, or your favorite fudge shop. Our Main Streets and local shops need our love more than ever, so be sure to support your favorite local businesses while checking off your holiday shopping list. Also, you can always purchase gift cards for shopping, lodging, and restaurants, they are the perfect stocking stuffers! Our Gift Certificate sale will continue until December 24th, so do not miss the chance to score 20% more in value this holiday season!
Happy shopping and Happy Holidays!