Print This Recipe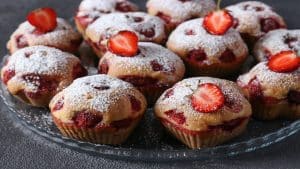 Sweet and supremely moist Strawberry  Muffins are so easy to make and so delicious! A Summertime favorite.
Prep Time: 30 Minutes
Cook Time: 30 Minutes
Total Time: 60 Minutes
Servings: 12
Ingredients:
3 cups King Arthur all-purpose flour
1 tablespoon baking powder
1/2 teaspoon baking soda
1/2 teaspoon kosher salt
1/4 teaspoon ground nutmeg
1/4 teaspoon ground cinnamon
1 1/4 cups whole milk
2 extra-large eggs, lightly beaten
1 tsp. pure vanilla extract
2 sticks unsalted butter, melted
2 cups strawberries, chopped in small pieces
1-1/2 cups sugar
Instructions:
Preheat the oven to 375 degrees and line muffin tins with paper liners.  

To make the muffins sift the flour, baking powder, baking soda, salt, cinnamon, and nutmeg together in a large bowl.  Stir with your hand to be sure the ingredients are combined. 

In another bowl, combine the milk, eggs, and melted butter. 

Make a well in the middle of the dry mixture, pour the wet mixture into the well, and stir until just combined. There will be some lumps but don't overmix the batter!

Mix strawberries with sugar and add them to the batter!

Spoon the batter into the muffin cups to fill the liners.  Bake for 20 to 30 minutes, until a cake tester, comes out clean and the tops are nicely browned. Decorate muffins with powder sugar and fresh strawberries right before serving. Enjoy!