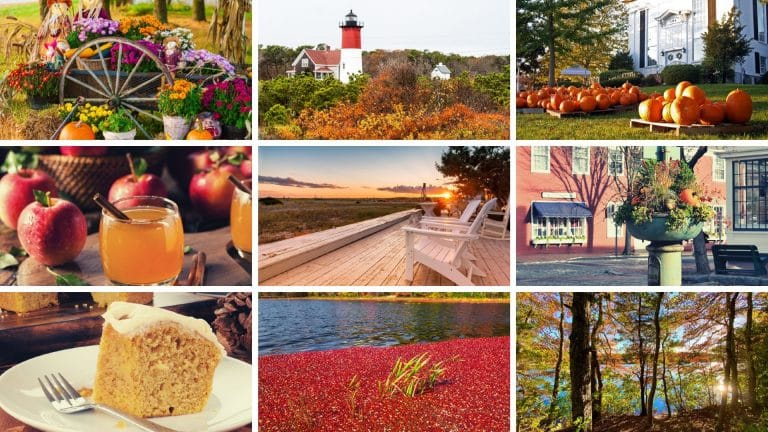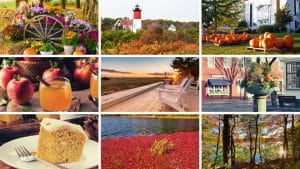 Make the most of the fall season and enjoy all that comes with it! Crisp air, colorful foliage, and pumpkins everywhere – for your fall bucket list. Grab your loved one and head to Cape Cod to try one or all of these inspiring ideas and activities this fall. Here are some of the best things to do this fall:
Visit a pumpkin patch and pick out the best pumpkin – just steps away from the Inn at the Congregational Church various sizes and shapes of pumpkins are available for sale in the month of October.
Eat fall-inspired baked goodies – we love baking at the Inn and every fall our menu is full of seasonal treats. Our most popular baked goods are Pumpkin Squares, Apple Cake, Cranberry Orange Bread, and Pecan Tassies are a must try!
Find Fall decorating ideas – shopping on Chatham Main Street is one of the best things to do while in town. Visit some of our favorite stores Tale of the Cod, The Mayflower Store, and The Chatham Home.
Go to a Fall Festival – choose from many Cape Cod festivals; The Oyster Festival, Oktoberfest or Pumpkin Fest. Read the full list here.
Sip warm apple cider – come and join us in the afternoons in October for warm cider and cookies. We will be serving a variety of fall-inspired teas, coffee, and warm apple cider paired with some of the best sweet treats in town.
Tour a Cranberry Bog – Cape Cod cranberry bogs are beautiful during harvest time. It's the best time to stock up on cranberries for baking. Daily tours are offered where you can see the equipment, and farm animals and buy locally made cranberry sauces, honey, and dried cranberries. Visit the best cranberry bogs on Cape Cod. 
Watch a scary movie – The Chatham Orpheum is the perfect place to see a scary movie for Halloween. This cozy theater is located just around the corner from the Inn and features new, old, and art films. You can also grab a bite to eat at Shark Pizza located in the theatre lobby.
Go to a haunted house – walk the haunted streets of Barnstable with a professional ghost hunter (Barnstable Village Ghost Hunter's Tours). During the three-hour tour, attendees will hear haunting tales and have the opportunity to investigate the haunted cemetery.
Take a fall foliage drive down route 6A to see the colorful foliage and go antiquing.
Taste some Wine – fall is grape harvest season and tasting some local wines is a nice way to spend a day on Cape Cod. Head over to Truro Vineyards for a fun day of tastings, local food, and entertainment.
As you now have your fall bucket list of the best things to do, The Old Harbor Inn in downtown Chatham can provide luxurious accommodations for your getaway. We have twelve guest rooms and suites with completely renovated bathrooms, and some rooms have Jet tubs and fireplaces that are perfect for getting cozy as the nights get cool in autumn. Each morning, we prepare a homemade breakfast, including gourmet coffee, to give you the energy to begin your adventure for the day.
Check our availability for your next trip to Cape Cod in the fall.