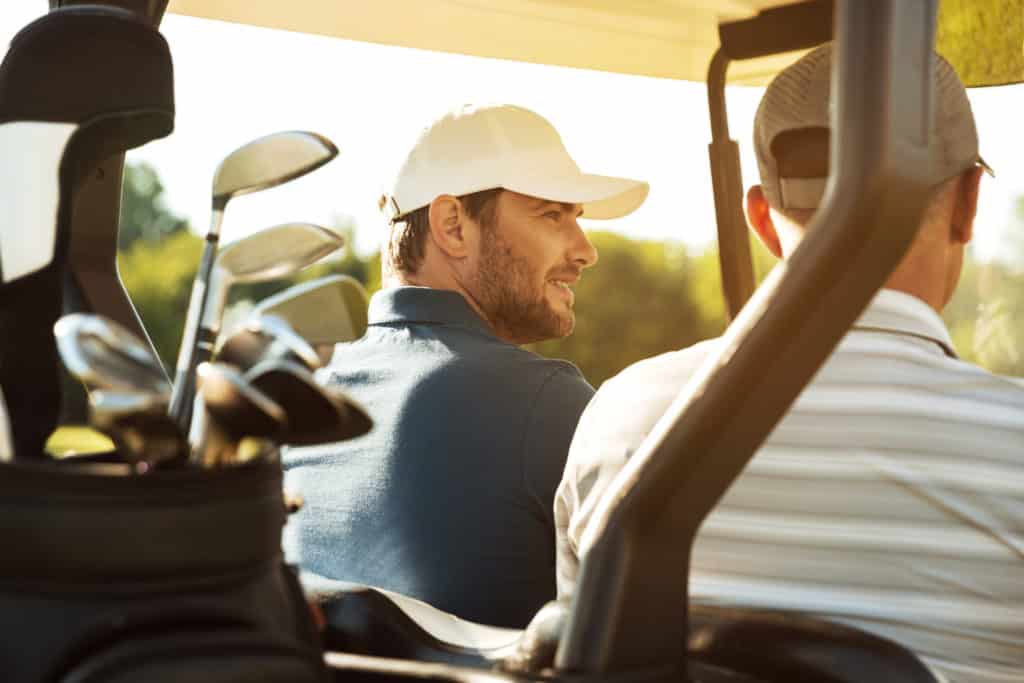 Father's Day is just around the corner and now more than ever it's time to show dad how much you care. Skip the tie and boring presents and give dad the gift of travel. If you really want to show your appreciation to a special dad in your life (whether that be your own dad, stepdad, or partner), a Father's Day trip to Cape Cod is the way to go! Golfing, fishing, kayaking, biking, or just relaxing – check out our top ideas to make this Father's Day one he'll remember.
Go Golfing – for the dad that likes to tee it up
Did you know that Chatham has a beautiful public Golf Course located within 5 minutes walk from the Inn? Chatham Seaside Links has been around since 1895, it's a 9 hole par 34 course. This is a very scenic course with woods and terrific ocean views. The course is short but has its challenges, perfect for golfers of all levels. This would be an inexpensive and relaxing outing for dad. You can book a tee time on their website ($22/game) and rent clubs at the course. The grounds are well maintained.
Kayaking, Biking, Hiking – for the dad who loves the outdoors
Did you know that you can rent Kayaks in Chatham? Chatham Kayak Company is located on the Oyster River and offers renting out kayaks and stand up paddleboards. If you are qualified, you can also rent a powerboat and go exploring around Nauset Beach and Monomoy Island. If you want a little more guidance during your trip, or are a beginner to the craft, Cape Kayaking offers a variety of tours with varying difficulties. You can go clamming or birdwatching or enjoy a sunset over the water with a knowledgeable guide pointing out the sights that only an expert would know. In Chatham, we have two amazing bike rental companies Chatham Hood Bikes and Wheelhouse bike both are located near the Cape Cod Rail Trail, a converted railway to a biking trail. The trail offers 22 miles of scenic views and is a unique way to see the Cape. For hiking ideas visit our blog "Top 5 amazing hikes on Cape Cod".
Hop on a fishing boat – for the dad who loves fishing
Take or arrange a fishing charter for dad! Hiring a fishing charter can be a fun way to spend a day – even if you don't catch anything, you are sure to enjoy yourself with the friendly crews. If you want to make it a spur of the moment trip, you can absolutely do that – no planning required! Just drive up to Rock Harbor in Orleans and see who's going out when and go have an adventure. If you want to plan ahead, Reel Deal Fishing in Truro will help you customize your perfect trip, from an absolute beginner to the pros that want to plan every detail down to the equipment. Billingsgate Charters in Wellfleet offers not only sportfishing charters, but also lobster charters, so you can see how the farming of these odd creatures is done. If you want to go fishing on your own, you will need a license under Massachusetts law. A three-day permit will run you $27.50, and you can purchase it online. If you just want to cruise around and enjoy the summer weather, Captain Curley offers some amazing cruises. He offers sailing lessons in the morning if you have ever been curious about what goes into making a boat work its magic. He will also take you out to the secluded sandbar of Jeremy Point, where you can get out and explore the beach, and even bring a picnic. For some excellent stargazing, take the last cruise of the day and enjoy looking up at the clear night skies and searching out your favorite constellations. Another fun idea would be taking one of the Chatham Shellfish Company guided tours. See how oysters are being harvested, cultivated, and learn about the full process. At the end of the tour, enjoy a private raw bar on the Oyster River.
Jump in a plane – for the dad who wished he could do something really cool
For the adrenaline junkie, head over to Chatham Airport Stick'n Rudder Sightseeing tours. See Cape Cod as you have never seen it before! These tours will give you a "birds-eye view" of the magnificent beaches, main streets, and backroads of Cape Cod. Tours start at just $120.00, chose from a 15 min "Washashore" Experience, 30 minutes "Clam Digger" or the 1 hour "The Great White Tour" going all the way to P-town. Tours are narrated by your pilot! Another fun option would be Dennis Parasail and Jet Ski. They offer single or tandem parasail flights over Cape Cod Bay. The trip is about an hour and a half, with about 10 minutes of flight time. You can even experience their "free fall dip" if you want a little more excitement. Jet skis are also available, and you can easily spend an hour zipping across the waves. They offer semi-guided tours and assistance if needed, so don't be afraid to try something new!
Take a brewery tour – for the dad who can appreciate a good craft ale
Did you know that Cape Cod is a major beer destination? Choose from many breweries on the mainland or venture out on a day trip to Martha's Vineyard or Nantucket to try some island brews. Cape Cod has become one of the hottest places in New England to sample craft beers. Devil's Purse Brewing is one of our personal favorites. They offer a lot of European inspired beers and some more creative styles. Cape Cod Beer is a true Cape Cod staple, offering daily tours, tasting, and a gift shop. Sampling is done in a beautiful outdoor garden. Hog Island Beer, offers a Bavarian beer hall-style ambiance with lawn games and picnic tables outside on sunny summer days. For more recommendations about the best breweries on Cape Cod, visit our blog "Best Breweries on Cape Cod".
Last, but not least, we are happy to make any reservations for you and dad and help you create some standout memories of your trip to Cape Cod. Just let us know! Purchase one of our Gift Certificates or book a weekend away to The Old Harbor Inn, perhaps this is something that dad would enjoy most! Give dad an escape trip to Cape Cod where he can kick back and relax.