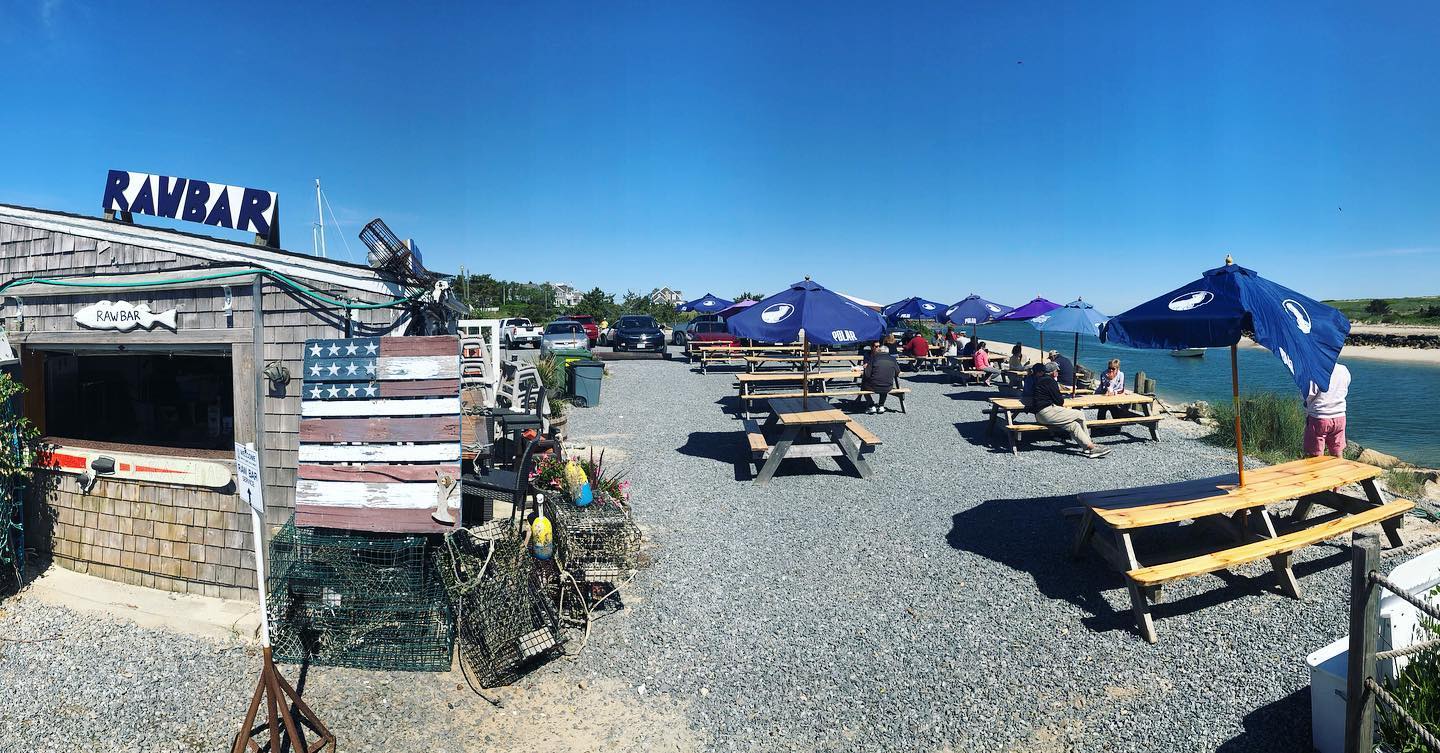 There is something special about dining outside in the summer on Cape Cod. Traditionally, Cape Cod is known for its waterfront clam shacks and seafood restaurants, and while these classics are still available and wildly popular, there are also more sophisticated outdoor dining options. The ocean views, summer breeze, and the plethora of dining options make Cape Cod the perfect spot to dine outside this summer. How can you pick the best place? We've created a list of our favorite spots that we've been enjoying for over 25 years. No matter what outdoor spot you choose, the views are always a perfect complement to your meal.
If you want to experience Cape Cod like a local, try one of these famous seafood shacks. You can enjoy a piece of Cape Cod's history and some of the freshest seafood around!
Sesuit Harbor Café – family owned and operated, this Cape Cod classic clam shack offers one of the best outdoor waterfront dining experience overlooking Cape Cod Bay. They are open for lunch and dinner.
The Beachcomber – this bar and restaurant combo is housed in a former lifesaving station overlooking the dramatic dunes of The National Seashore. The live music, cool cocktails, fantastic food, stunning scenery, and friendly atmosphere create an oasis at Cahoon Hollow Beach.
Kream'n Kone – has been serving award-winning seafood, including fried clams, fried shrimp, seafood platters, fresh lobster rolls for over six decades. Now with two locations with great outdoor dining options in Chatham and Dennis.
Chatham Fish Pier Market – enjoy great views of the Chatham harbor, capture local commercial fishing boats unloading their catch, and get a sneak peek of Chatham's famous seals while savoring on a bowl of clam chowder and the freshest lobster roll around.
Mac's Chatham Fish and Lobster – an extension to our local seafood market this is a great place for a lobster dinner, some oysters and a glass of cold beer or wine. Relax on their outdoor patio, get some much-needed vitamin D, and enjoy the cool summer breeze.
Cape Cod is well known for its high-quality fresh seafood and also more sophisticated waterfront dining options. If you are looking for a more elegant meal overlooking sweeping ocean views here are some of our favorite spots to relax with a cocktail by the sea and enjoy lunch or dinner with a view:
The Beach House at Chatham Bars Inn – sitting on a stunning private beach overlooking the Chatham Harbor offers lunch and sunset clambakes. Enjoy the breathtaking views, while savoring their famous "just caught" Lobster Nachos, Chatham Oysters, and the very popular fish and chips. Make sure you try one of their frozen drinks and signature cocktails.
28 Atlantic at Wequassett– is now offering outdoor dining in the Garden Terrace overlooking the Pleasant Bay, a cozy covered water view setting surrounded by firepits that would be ideal for a romantic dinner. The menu features native seafood and seasonal ingredients to please a variety of palates and moods.
Ocean House – ideally located directly on the beach in Dennis Port, is one of the most popular outdoor dining spots on Cape Cod. Serving lunch and dinner daily, Ocean House is well known for its raw bar, fresh seafood, and creative cocktails.
When planning your Cape Cod vacation, it's nice to know how easy it is to find a good meal. From cozy seafood shanties to luxury waterfront dining, we have it all! As you explore the different towns, dinning opportunities will pop out at you. The Old Harbor Inn is located in downtown Chatham and you can reach many of these restaurants within a short walk. There is such a good selection of outdoor dining in Chatham and the nearby towns as well that you are sure to find something appealing, no matter what you are in the mood to try. As locals, we know best and we can assure you that you will receive great meals while staying with us. Call us today 508-945-4434 and start planning your Cape Cod summer vacation today!