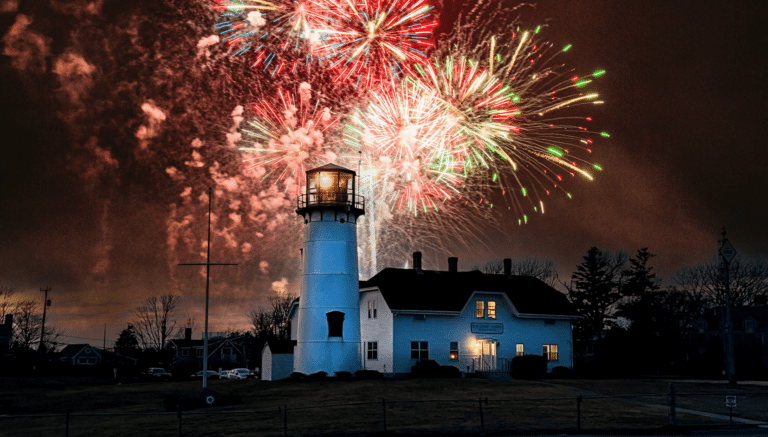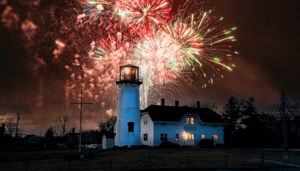 Cape Cod is a vibrant and enchanting destination to celebrate the 4th of July. From dazzling fireworks displays to lively parades and festive events, there are plenty of activities to make your Independence Day on the Cape truly memorable. Here are some of the best things to do on Cape Cod for the 4th of July:
Parades and Festivals: Immerse yourself in the patriotic spirit by attending a 4th of July parade. Watch as vibrant floats, marching bands, and community groups make their way through the streets, showcasing their pride and enthusiasm. Chatham is known for its lively parade and festive atmosphere. Chatham's Independence Day parade is one of the oldest in the U.S. and it attracts over 20,000 spectators. Additionally, keep an eye out for local festivals and fairs that often take place during this time, featuring live music and delicious food.
Fireworks Extravaganzas: Witnessing a spectacular fireworks show is a must on the 4th of July, and Cape Cod offers several fantastic options. Grab a spot on the beach, bring a picnic blanket, and enjoy the brilliant bursts of color over the water. Some popular locations for fireworks displays include Hyannis Harbor, Provincetown, and Rock Harbor in Orleans. Here is a full schedule.
Beach Time: Spend a glorious day at one of Cape Cod's picturesque beaches. Pack your beach gear, sunscreen, and a picnic, and relax on the soft sand while enjoying the ocean breeze. From popular beaches like Nauset Beach in Orleans to secluded gems like Harding's Beach in Dennis, there's a beach for every preference. Don't forget to take a refreshing dip in the Atlantic waters and watch the boats sail by.
Cape Cod Baseball League: For sports enthusiasts, catching a Cape Cod Baseball League game is a fantastic way to celebrate the 4th of July. This prestigious amateur league showcases some of the best college players in the country. Grab a hot dog, cheer on the home team, and revel in the quintessential American pastime.
Explore Historic Sites: Cape Cod is steeped in history, and Independence Day offers the perfect opportunity to explore its rich heritage. Visit the Cape Cod National Seashore and learn about the region's maritime history, or take a tour of the iconic Cape Cod lighthouses, such as Highland Light in Truro, Nauset Light in Eastham or Chatham Lighthouse. These landmarks provide a glimpse into the area's past and offer breathtaking views of the coastline.
Outdoor Activities: Make the most of the Cape's beautiful landscapes by engaging in outdoor activities. Go biking along the Cape Cod Rail Trail, hike through the Cape Cod National Seashore trails, or rent a kayak or paddleboard to explore the serene coastal waterways. Cape Cod's natural beauty will leave you awe-inspired and create lasting memories.
Enjoy Local Cuisine: Indulge in the delicious flavors of Cape Cod's culinary scene. From fresh seafood and lobster rolls to homemade ice cream and mouthwatering clam chowder, there's no shortage of delectable treats to savor. Visit the local seafood shacks, waterfront restaurants, or farmers' markets to taste the authentic flavors of Cape Cod.
These are just a few of the many exciting things to do on Cape Cod for the 4th of July. Embrace the patriotic spirit, bask in the natural beauty, and immerse yourself in the rich culture of this captivating region.
Book Your 4th of July Getaway Today!
As Chatham's premier luxury bed and breakfast, we are thrilled to invite you to celebrate the 4th of July with us. Escape to our tranquil Inn, immerse yourself in the beauty of Cape Cod, and create lasting memories during this festive season. Our dedicated staff is ready to ensure your stay is nothing short of exceptional.
To reserve your room or inquire about availability, please visit our website or give us a call at 508-945-4434. Don't delay, as this cherished holiday draws near and availability is limited. We look forward to welcoming you to our Inn for an unforgettable 4th of July celebration!